United PV Signs Agreements with China Merchants Logistics to Collaboratively Develop Ground-mounted and Distributed Solar Power Plants
Hong Kong, China, 16 December 2014 - United Photovoltaics Group Limited ("United PV" or the "Company", stock code: 00686.HK, whose largest shareholder is China Merchants New Energy Group "CMNE"), a leading solar power plant investor and operator in China, is pleased to announce today that, the Company's subsidiary, China Merchants Zhangzhou Development Zone Trendar Solar Tech Limited ("Trendar Solar"), entered into a solar power plant projects development cooperation agreement ("Development Agreement") and a distributed solar power plant projects construction cooperation agreement ("Distributed Agreement") with China Merchants Logistics Holdings Co., Ltd. ("CML") at the headquarters of CML in Shenzhen, China. Mr. XU Yongjun, General Manager of CML, and Mr. Alan LI, Chief Executive Officer of United PV, signed on behalf of their respective companies. The signing ceremony was attended and endorsed by Mr. LI Yinquan, Deputy General Manager of China Merchants Group ("CMG"), Mr. HU Zheng, Deputy General Manager of CMG and Chairman of CML, Mr. LU Zhenwei, Managing Director of China Merchants Capital ("CM Capital") and Chairman of China Merchants Technology Holdings Co., Ltd.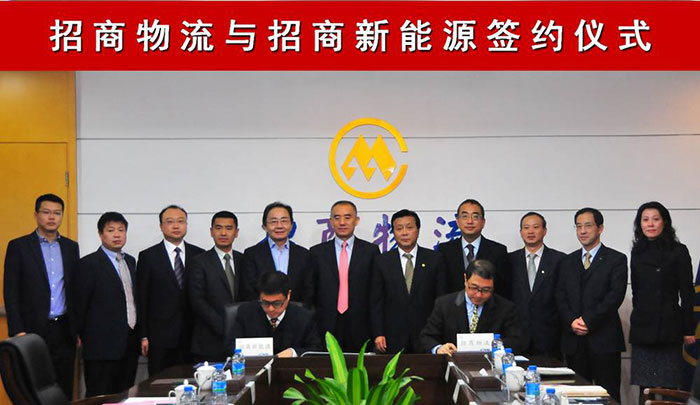 Pursuant to the Development Agreement, during the three years from 2015 to 2017, leveraging on CML's teams in over 30 major cities across China, its close cooperative relationship with local governments and relevant departments and its extensive project development experience, the Company and CML will jointly develop self-sustaining solar power plant projects with an annual installation target of 100MW.
Pursuant to the Distributed Agreement, CML will provide roof-top project resources of the five logistic centers as the first batch in Xinjiang, Qingdao in Shandong, Kunming in Yunnan, Ningbo in Zhejiang and Hefei in Anhui. CML will ensure the rooftops of the buildings are fully capable of carrying the distributed solar power plants and will provide assistance in grid connections as well as security guard patrolling, etc. And the Company will be responsible for the design, investment, construction and operation and maintenance of the solar power plants.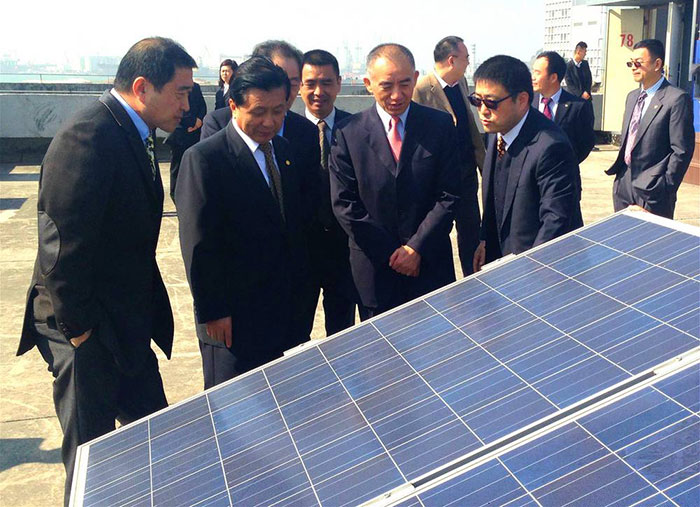 Mr. HU Zheng, Deputy General Manager of CMG, said: "CMG currently owns over 1,140,000 square meters of warehouse rooftop spaces. It is expected that 1,500,000 square meters will be used for the development of distributed solar power projects by 2015. The "One Belt and One Road" initiative is part of the Chinese national economic reform and path to international expansion, which also offers great potential for CML and CMNE's future cooperation."
Mr. LI Yinquan, Deputy General Manager of CMG, added: "In the future, the CMG companies such as CM Capital, CMNE and CML will strengthen the cross-sector synergy within the CMG, integrate the resources and leverage on their advantages to support the continuous development of the solar power plant business."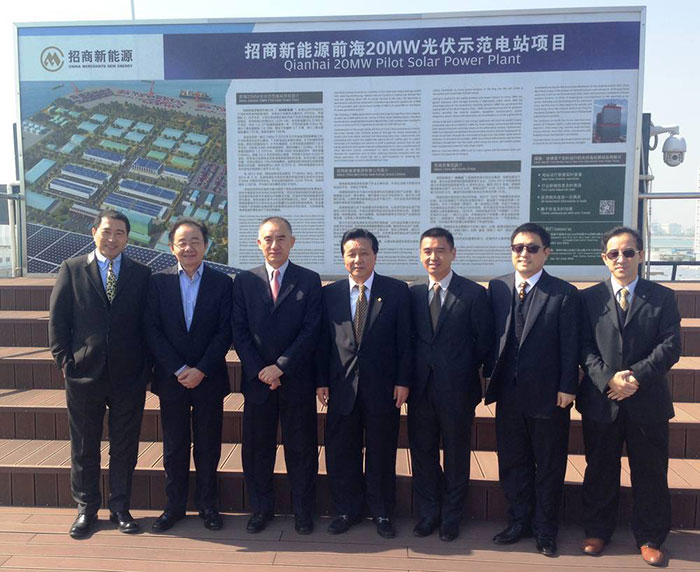 Following the joint acquisition of the 80MW solar power plant project in Xinjiang together with China Merchants Bank and CM Capital and the increase in CM Capital's stake of CMNE, we believe the Company will experience an unprecedented growth in the next three years. United PV will spare no efforts in keeping abreast of the latest trend in the solar power industry and leading the industry in terms of scale, efficiency and innovation. The Company will also fulfill its corporate social responsibility by contributing to the goal of boosting China's share of non-fossil fuel energy to 20% by 2030 as stated in the Sino-US Climate Agreement.
Mr. WANG Boxing, Chairman of Zhongli Sci-tech Group ("Zhongli", 002309.SZ), a significant shareholder of the Company, also attended the signing ceremony and indicated specifically that Zhongli would regard United PV as the strategic partner to give strong support to the Company's business expansion in the solar farm marketplace in 2015. Zhongli will also transfer not less than 1GW of solar power plant project to United PV. The signing ceremony was also attended by Mr. LI Zhonghan and Mr. YANG Shuhui, Deputy General Managers of CML, Mr. XU Xiaoping, Chief Financial Officer of CML, Mr. LI Hong, Chief Financial Officer of CMNE, and Mr. JIANG Wei, Chief Legal Officer of CMNE.