RECHARGE: United Photovoltaics Completes 100MW CPV Plant for State Pilot in China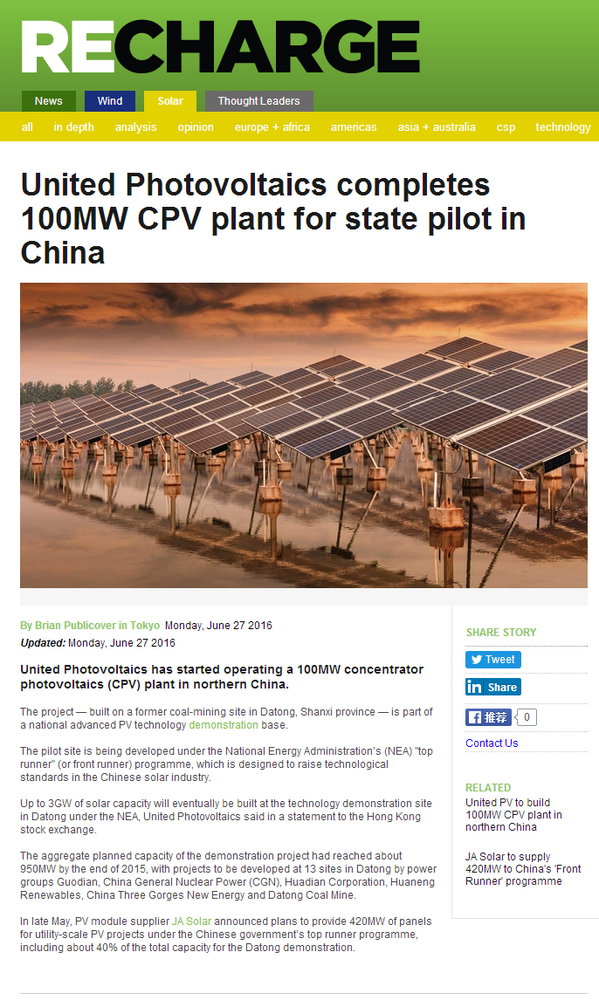 United Photovoltaics has started operating a 100MW concentrator photovoltaics (CPV) plant in northern China.
The project — built on a former coal-mining site in Datong, Shanxi province — is part of a national advanced PV technology demonstration base.
The pilot site is being developed under the National Energy Administration's (NEA) "top runner" (or front runner) programme, which is designed to raise technological standards in the Chinese solar industry.
Up to 3GW of solar capacity will eventually be built at the technology demonstration site in Datong under the NEA, United Photovoltaics said in a statement to the Hong Kong stock exchange.
The aggregate planned capacity of the demonstration project had reached about 950MW by the end of 2015, with projects to be developed at 13 sites in Datong by power groups Guodian, China General Nuclear Power (CGN), Huadian Corporation, Huaneng Renewables, China Three Gorges New Energy and Datong Coal Mine.
In late May, PV module supplier JA Solar announced plans to provide 420MW of panels for utility-scale PV projects under the Chinese government's top runner programme, including about 40% of the total capacity for the Datong demonstration.