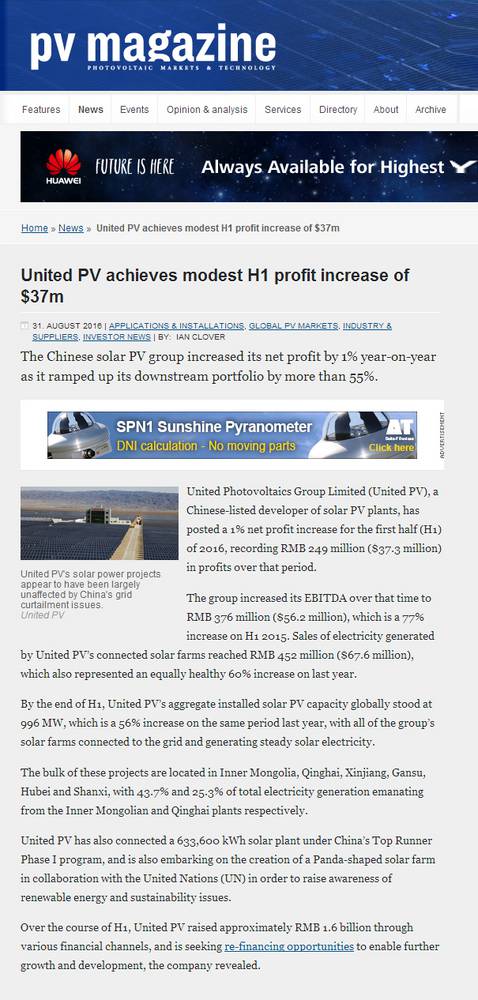 The Chinese solar PV group increased its net profit by 1% year-on-year as it ramped up its downstream portfolio by more than 55%.
United Photovoltaics Group Limited (United PV), a Chinese-listed developer of solar PV plants, has posted a 1% net profit increase for the first half (H1) of 2016, recording RMB 249 million ($37.3 million) in profits over that period.
The group increased its EBITDA over that time to RMB 376 million ($56.2 million), which is a 77% increase on H1 2015. Sales of electricity generated by United PV's connected solar farms reached RMB 452 million ($67.6 million), which also represented an equally healthy 60% increase on last year.
By the end of H1, United PV's aggregate installed solar PV capacity globally stood at 996 MW, which is a 56% increase on the same period last year, with all of the group's solar farms connected to the grid and generating steady solar electricity.
The bulk of these projects are located in Inner Mongolia, Qinghai, Xinjiang, Gansu, Hubei and Shanxi, with 43.7% and 25.3% of total electricity generation emanating from the Inner Mongolian and Qinghai plants respectively.
United PV has also connected a 633,600 kWh solar plant under China's Top Runner Phase I program, and is also embarking on the creation of a Panda-shaped solar farm in collaboration with the United Nations (UN) in order to raise awareness of renewable energy and sustainability issues.
Over the course of H1, United PV raised approximately RMB 1.6 billion through various financial channels, and is seeking re-financing opportunities to enable further growth and development, the company revealed.