TÜV NORD Issued the World's First New IEC 62446-1: 2016 Standard Certificate to Panda Green Energy Group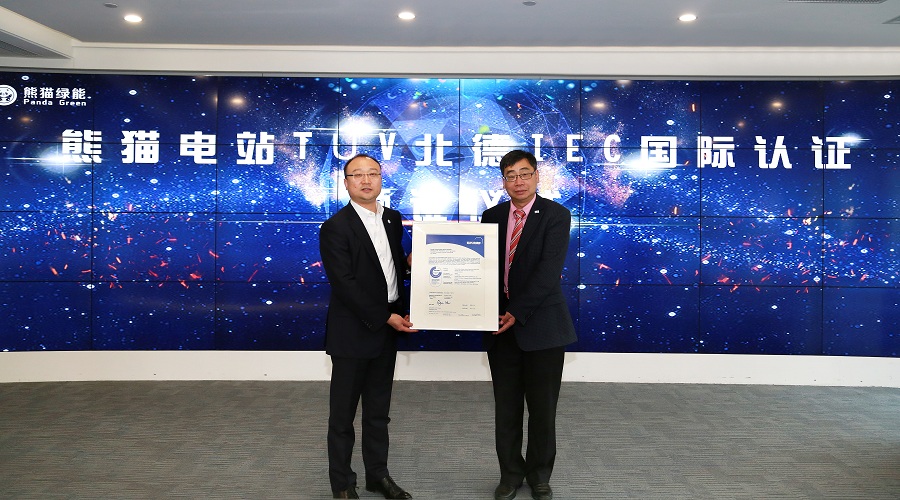 On January 25, 2018, TÜV NORD formally issued the world's first new IEC 62446-1: 2016 standard certificate to the world's first Panda Power Plant under Panda Green Energy Group Limited (00686.HK, "Panda Green Energy"). Mr. Ren Jun, CEO of TÜV NORD Asia Pacific and Chairman of TÜV NORD Greater China, and Mr. Li Hong, CFO of Panda Green Energy attended the certification ceremony.
Panda Green Energy formally launched the creative design of Panda Power Plant in May 2016. On September 1 of the same year, Panda Green Energy signed a cooperation agreement with United Nations Development Program in Beijing and started the construction of Datong Panda Power Plant on November 20. On May 14, 2017, at the "Belt and Road" Forum for International Cooperation held in Beijing, Panda Power Plant was officially listed in the Action Plan on Jointly Promoting "Belt and Road" Construction launched by United Nations and the Chinese Government, becoming an important landing project of China's "Belt and Road" Initiative. On June 29, 2017, the world's first Panda Power Plant in Datong, Shanxi was formally connected to grid with an installed capacity of 50MW. As the world's leading technology service provider, TÜV NORD helped Panda Power Plant conduct quality-monitoring throughout the entire process. From product manufacture supervision and incoming product inspection to the periodical construction inspection, and finally completed grid-connection and acceptance check, providing all-round safeguard to construction quality and the plant function. TÜV NOED will as always respond to the "Belt and Road" Initiative to provide more enterprises with a range of professional technical services as international standard required.