CMNE Entered into Strategic Cooperation Framework Agreement with the Xinjiang Production and Construction Corps (XPCC) to Cooperate on Finance and Internet of New Energy Industry
16 September 2015 – China Merchants New Energy Group (CMNE) is pleased to announce today that the company has inked the Strategic Cooperation Framework Agreement on Cooperation on Finance and Internet of New Energy Industry with the Xinjiang Production and Construction Corps (XPCC). In the presence of leading cadres of XPCC including Deputy Party Secretary and Commander Mr. LIU Xinqi, the agreement was sealed by Mr. Alan Li, CEO of CMNE, and Mr. LIU Xuhao, Deputy Director of SASAC of the XPCC as representatives of both parties.
CMNE and the XPCC will collaborate in building large scale ground mounted solar PV plants and PV power plants in countries geared to the "OBOR"(One Belt One Road) program, as well as in forming industry funds for Internet of New Energy, which are the results produced in the 2nd Xinjiang Oasis Industry Expo. CMNE, as a front runner in providing state-of-the-art clean energy solutions, will introduce world leading smart power plant operation & maintenance system to the XPCC. Meanwhile, building on successful track record of cooperation, the two parties will invest more efforts in "PV for poverty relief" and R&D of solar PV applications.
Regarding the cooperation of two parties in ground mounted PV power plant construction, CMNE will put Xinjiang Province front and center in the company's strategy of grand mounted solar power plant investment. CMNE and the XPCC will set up joint ventures as the platform of PV power plant investment. In line with the 13th Year Plan and the ultra-high voltage (UHV) grid construction plan, by 2020 a consideration of RMB40bn will be invested within the XPCC, and a number of PV power demonstration parks will be completed, in the form of self-construction of joint development.
In terms of collaborating on the construction of PV power plants in OBOR countries, CMNE and the XPCC will jointly establish a special energy fund which targets at projects within the XPCC only. CMNE will bring in capital from Zhejiang, Shandong, Hebei, Guangdong and Fujian to set up "silk road industry fund". Leveraging on the plan of smart grid and cross-border UHV grid construction along the silk road economic belt, CMNE is committed to making XPCC the most important exporting province of PV plant technology, capital and industry, building an energy output platform in Central Asia, and making XPCC a PV pearl on the silk road economic belt.
XPCC Commander LIU Xinqi spoke highly of this cooperation and the good interaction between the companies under China Merchants Group and XPCC. According to LIU, the development of green energy is essential to the mission of XPCC to accelerate industry structural transformation and identify new growth drivers. On the basis of development and deepening reform, by playing its unique role in adjusting social structure, promoting culture exchange and balanced development among different regions, and optimizing population resources, XPCC will effectively become a stabilizer for social security in Xinjiang, a melting pot of different ethnic groups, and a model area for advanced productivity and culture.
"CMNE has earnestly implemented the 'One belt, one road' strategy put forward by central government, and actively takes initiatives to answer the call for 'supporting Xinjiang with industry upgrade'. The strategic cooperation aims to promote XPCC's development of green economy by leveraging the ample solar energy resources in Xinjiang. Built on this collaboration, XPCC is set to speed up its energy industry construction and industry upgrade, as well as strengthen its ability to garrison frontiers, which is a response to the appeal 'clean environment is a goldmine in itself' by President Xi", stated Alan LI, CEO of CMNE.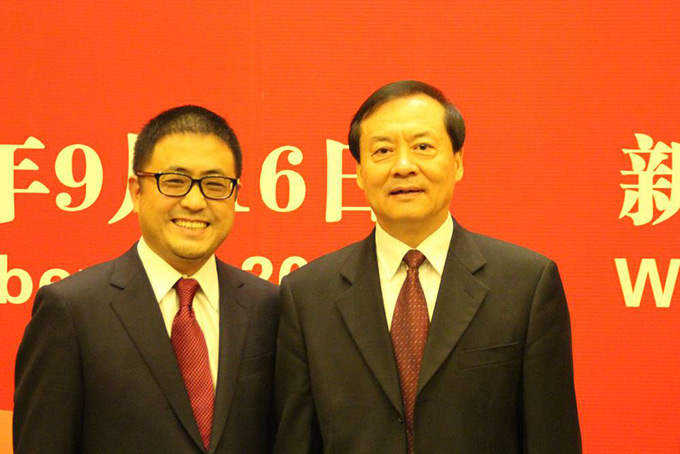 Mr. Alan Li posed with Commander LIU Xinqi after the ceremony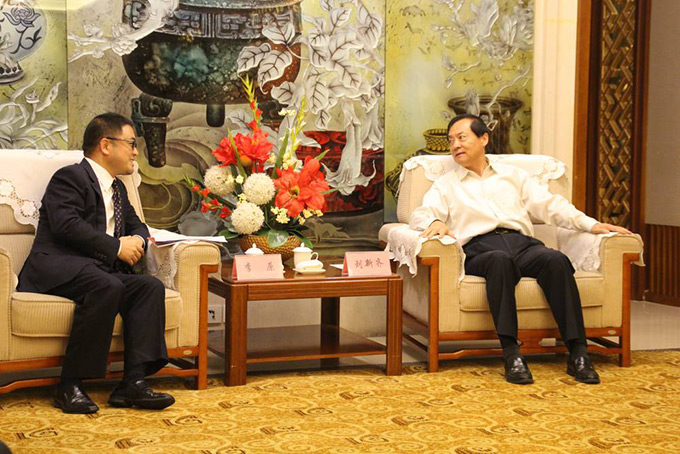 Mr. Alan Li meets Commander LIU Xinqi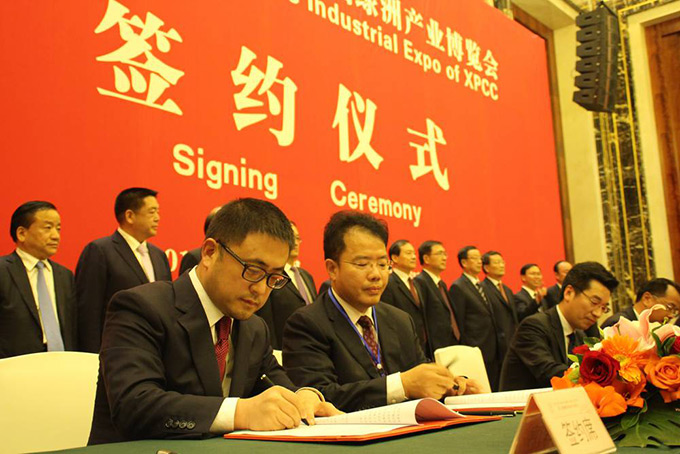 The Strategic Cooperation Framework Agreement was sealed by Mr. Alan Li, CEO of CMNE, and Mr. LIU Xuhao,Deputy Director of SASAC of the XPCC