Mr. Alan Li, Chairman of the Board and CEO of United PV garners "Honorable Zhejiang Businessmen"
Hong Kong, China, 2 November 2015 – "Global Honorable Zhejiang Businessmen Annual Conference and Global Maker Conference 2015" was held in Jiaxing on 31 October. Mr. Alan Li, Chairman of the Board and CEO of United Photovoltaics Group Limited ("United PV" or the "Company", stock code: 00686.HK, whose largest shareholder is China Merchants New Energy Group "CMNE") garnered "Honorable Zhejiang Businessman". Facing millions of overseas and local Zhejiang Businessmen, Global Honorable Zhejiang Businessmen Conference was established in April 2013, aiming at enhancing business ecosystem and to contribute to social progress. Global Maker Conference's mission is to create favorable startup environment by enhancing exchanges and innovations among enterprises in the new economy.
Being the "Venture Origin" of the global first "Maker" for Communist Party of China's "Venture Team of 12" modern global in the modern history, Jiaxing is the most suitable organizer for "Global Maker Summit". Mr. Alan Li was invited to the summit as a guest speaker and proudly provided a speech titled "The Opportunities from Zhejiang Restructuring in the New Economic Era". Mr. Li mentioned that, with China Government's "13th Five-year Plan" promoting the new energy goal and upcoming climate conference in Paris, human has officially entered a new economic era, the small-cap enterprises in Zhejiang should move towards the clean and low-carbon transformation.
Mr. Alan Li presented a new development plan of the Company during his speech, a well-known ancient temple in Zhejiang has agreed to be a crowdfunding platform for United PV, to source funds for building solar power plants. This collaboration marks the start of a new era for Buddhism and Clean Energy Industry in joining hands to promote green livings. China Merchants New Energy will build a solar power plant in the Free Trade Zone of Qianhai, together with a stone monument of merit, so as to emphasize the light of solar. This is the world's first crowdfunding solar project involving three industries: New Energy, Internet and Buddhism, aiming to promote clean energy through changing traditional living style.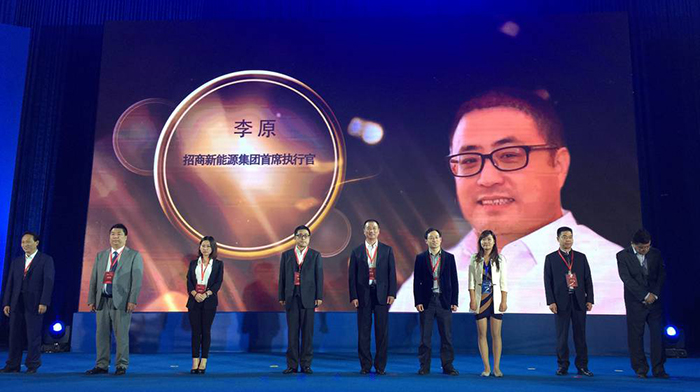 Mr. Alan Li, Chairman of the Board and CEO of United PV garnered "Honorable Zhejiang Businessmen"