On February 27, 2023, Liu Guoxi, deputy secretary of Party Committee of Beijing Energy International, met with Shen Hang, deputy director of Investment Promotion Bureau of Dongying City of Shandong Province in Beijing. The two sides exchanged on in-depth cooperation in new energy at home and abroad.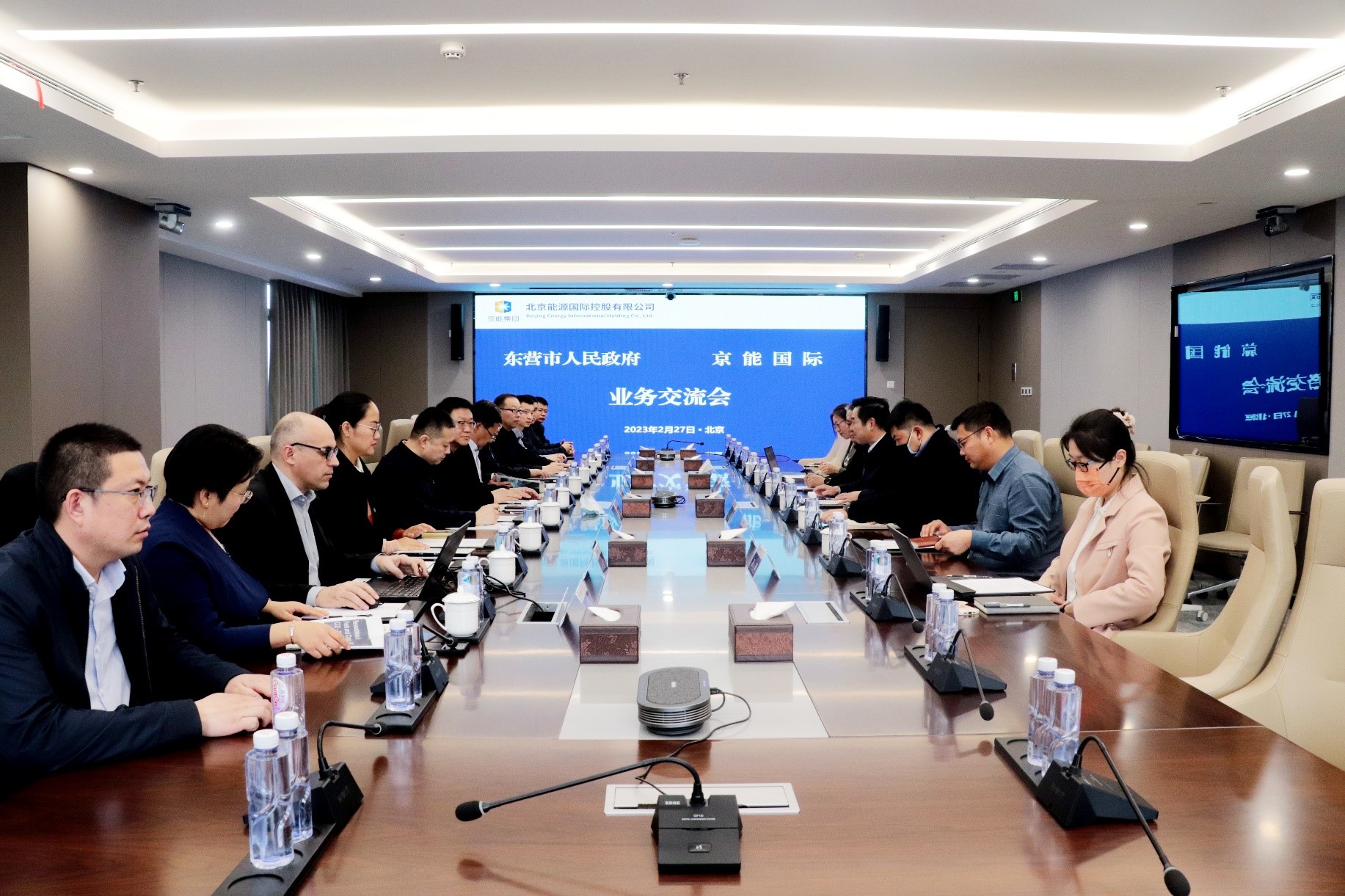 During the meeting, Liu Guoxi welcomed Shen Hang and his delegation and introduced the basic situation and development planning of Beijing Energy International. He said that the company has seized the development opportunities of the industry. By taking development as the top priority, it is fully expanding new energy business and has achieved gratifying results. Going forward, it is hoped that the Dongying Municipal Government will extend greater support to the company for deeper cooperation in new energy and high-quality cooperation and development between local government and enterprise, so as to achieve local dual carbon goal at an early date.
Shen Hang said that Dongying has attached great importance to green and low-carbon development and put forward the development goals of new energy and new technologies in its 14th Five-Year Plan. He welcomed the company to invest in Dongying and hoped that the two sides would innovate cooperation modes in new energy, strengthen exchanges, jointly cultivate and develop the new energy industry chain, promote broader and deeper cooperation for the delivery of socioeconomic benefits.
Wang Ming, deputy magistrate of Guangrao County Government of Dongying, Zhang Zhifeng, secretary and director of County Investment Promotion Center, Yang Dameng, deputy director of County Economic Development Zone Management Committee, Gai Bei, deputy director of County Investment Promotion Center, and Zhong Wenliang, director of County Office Administration Department; Ke Rudai, director of New Energy Department of Axens IFP Group Technologies; Zhu Kunshun, president of Shandong Shangneng Energy Investment Holding Group Co., Ltd.; Duan Weiling, general manager of Rui Tongda Trading (Beijing) Co., Ltd.; Guo Liang, general manager of Overseas Business Department of Beijing Energy International, Sun Rui, deputy general manager of Strategic Investment Department, Zhao Can, deputy general manager of North China Branch Company and other relevant personnel attended the meeting.