Zhang Ping, Chairman of the BOD of BJ ENERGY INTL Visited Zhu Gongshan, Chairman of GCL Group
On April 1, 2022, Zhang Ping, Chairman of the Board of Directors of Beijing Energy International visited Zhu Gongshan, Chairman of Golden Concord Limited (Group) Holdings Co., Ltd. (hereinafter referred to as "GCL Group") in Chengdu, Sichuan, and the two sides had an exchange on comprehensive cooperation in new energy. Yu Gang, President of GCL Capital, Shi Qingyong and Yansong Li, Vice Presidents of GCL Group, and Yang Jun, CEO of GCL Capital; Chen Lang, Vice Chairman of Poly Financial Leasing; Jia Geng, Vice President of Beijing Energy International, Liu Pengfei, Director of the Administration Department, Zhong Yi, General Manager of Central China Branch Company, Zhang Pengyuan, General Manager of Southwest Branch Company and other relevant personnel attended the meeting.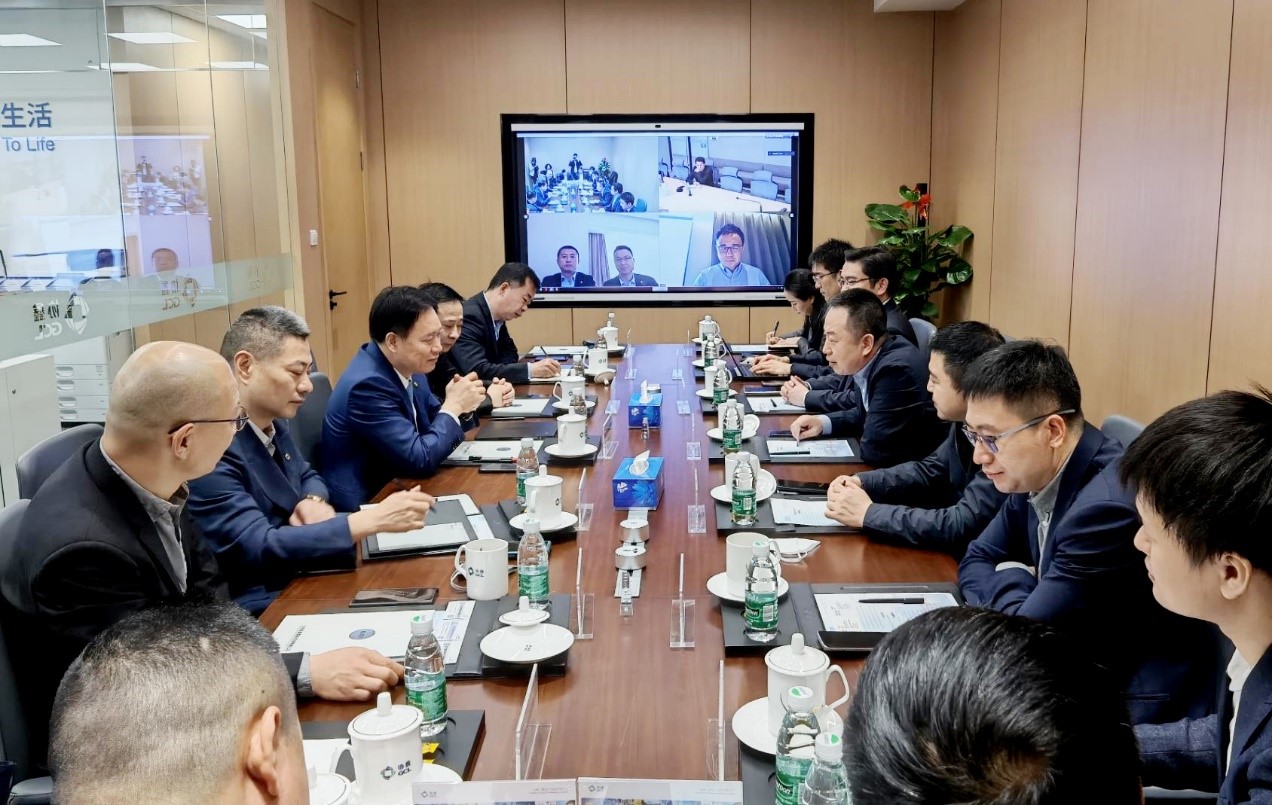 During the meeting, Zhu Gongshan welcomed the visit of Zhang Ping and his delegation, and introduced the current development and future business vision of GCL Group. He said GCL Group is a private leading enterprise that has formed a comprehensive business portfolio, including the integration of wind power, PV power, energy storage, hydrogen energy, the optimization of source-grid-load-storage network, a systematic promotion of new energy, clean energy, mobile energy ecology and a coordinated development of related industries covering integrated circuit core materials. GCL Group is committed to the advancement and development of green, low-carbon and zero-carbon technology, leverages green energy technology to drive its innovation and development, and strives to move towards cutting-edge, digital and green direction in the context of carbon peaking and carbon neutrality strategies. He spotlighted that Beijing Energy International has developed rapidly in the past two years with remarkable achievements, and that the two sides are highly aligned in development concepts. He hoped to foster a strategic partnership, capitalize on their respective, complementary advantages in technology, resources, talent, capital, system and mechanism, cooperate fully and deeply in new energy development and construction, operation and maintenance, new technologies, new materials and many other fields, set up working teams, speed up cooperation and implementation, and go hand in hand for innovative development.
Zhang Ping introduced the business development and future planning of Beijing Energy International. He said that the company, as a pilot SOE for mixed-ownership reform in Beijing, has a flexible mechanism and a leading strength in expertise, focusing on building a clean energy industry ecosystem featuring green and complementary development and smart integration. Its total installed capacity of controlled and confirmed installed capacity has reached 12 million kilowatts. GCL Group, as a pioneer and leader in the development of new energy industry, is an exemplary model in innovation and development. He said that both sides are highly aligned on the development of new energy industry and enjoy a sound cooperation foundation. It is hoped that the two sides will take this meeting as an opportunity to identify the breakthrough point of cooperation, plan the cooperative mode in new energy, speed up the formulation of cooperation plans, achieve the early landing of cooperation projects as well as strong alliance and common development, and contribute to the early attainment of the "dual carbon" goal.