On April 20, 2022, Zhang Ping, Chairman of the Board of Directors of Beijing Energy International met with Wang Yiping, member of the Standing Committee of the Party Committee of Hua Xia Bank. The two sides had an in-depth exchange on strategic cooperation in clean energy. Li Daying, member of the Party Committee, Marketing Director and President of Beijing Branch of Hua Xia Bank, Yu Guoqing, General Manager of Business Department, Xue Zengjia, General Manager of Investment Banking Department, Li Xiaoli, General Manager of Credit Approval Department, Chen Xiuliang, General Manager of Asset Custody Department, Yuan Zhihong, President of Hua Xia Wealth Management Company, and Zhang Yongmiao, Deputy General Manager of Business Department and Director of Green Financial Center; Zhu Jun, President of Beijing Energy International, Huang Hui and Jia Geng, vice presidents, Wang Yang, Chief Financial Officer, Tao Wei, General Counsel and other relevant personnel attended the meeting.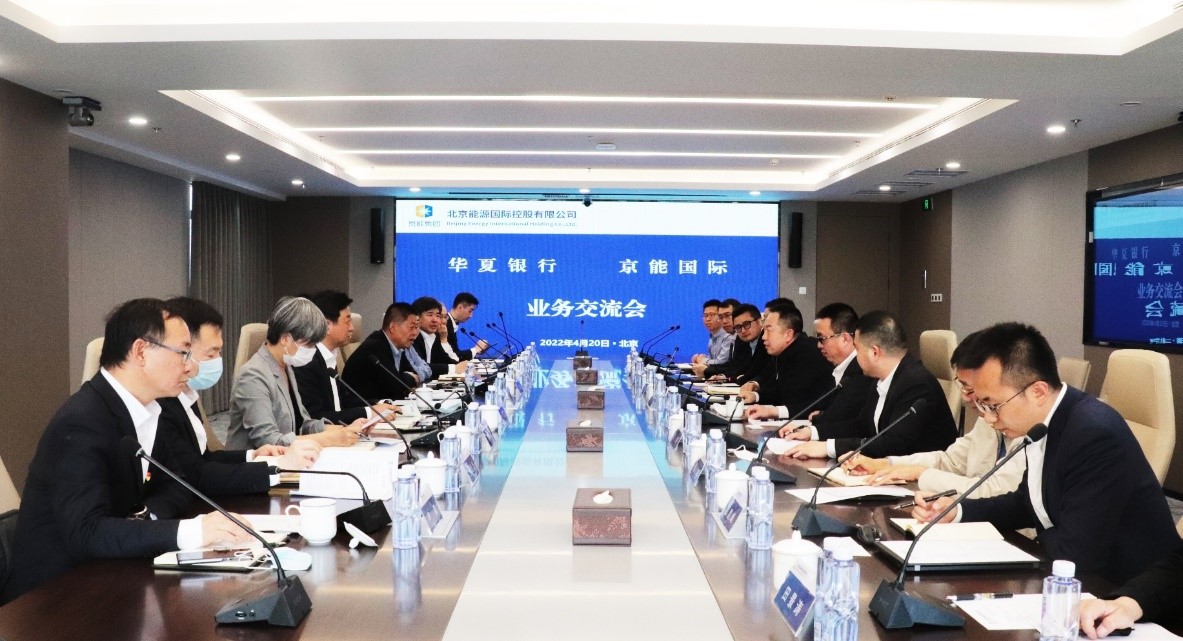 During the meeting, Zhang Ping welcomed the visit of Wang Yiping and his delegation, and introduced the development and future planning of Beijing Energy International. He said that the company has entered a high-quality and rapid development stage, and focused on the emerging areas of the industry, actively expanded integrated energy, hydrogen, energy storage, etc., and commits itself to building a green, multi-functional, smart and collaborative clean energy industry ecosystem. The two sides are highly aligned in the concepts on green energy investment, and there is a broad space for cooperation. In view of this, He hoped to capitalize on the advantages of their respective industries, resources and talent pool, foster a comprehensive long-term strategic cooperation, drive innovations and development, achieve mutual benefit and win-win outcome, and contribute to the early attainment of the dual carbon goal.
Wang Yiping introduced the main business of Hua Xia Bank. He said that Beijing Energy International is a front-runner in terms of expertise, development quality and business performance in the new energy industry. He said that the Bank attaches great importance to the future cooperation prospect with the company, and both parties should give full play to their respective advantages, dovetailing the Bank's World Bank loans, green finance and other featured financial products in new energy projects, and synergizing on equity financing such as asset securitization. It is hoped that the two sides will become long-lasting strategic partners based on mutual trust and mutual benefit, complementing each other's strengths and go hand in hand to achieve the dual carbon and low-carbon energy development.