On June 30, 2022, Zhang Ping, Chairman of the Board of Directors of Beijing Energy International met with Peng Chaocai, Vice President of Sungrow Power, President of Wind Energy Division and President of Hydrogen Energy Technology Company in Beijing. The two sides had in-depth exchanges on business cooperation. Xu Biao, General Manager of Business Development and Customer Service Center of Sungrow's Wind Energy Division, Yang Kai, Key Account Director of Wind Energy Division, Zhu Rui, Key Account Director of Sungrow Hydrogen Technology Company, Ta Yu, Investment and Financing Director of Sungrow New Energy Investment and Financing Center; Wu Chaoke, Vice President of Beijing Energy International, Zhao Li, Investment Director, Guo Liang, General Manager of Overseas Business Department and other relevant personnel attended the meeting.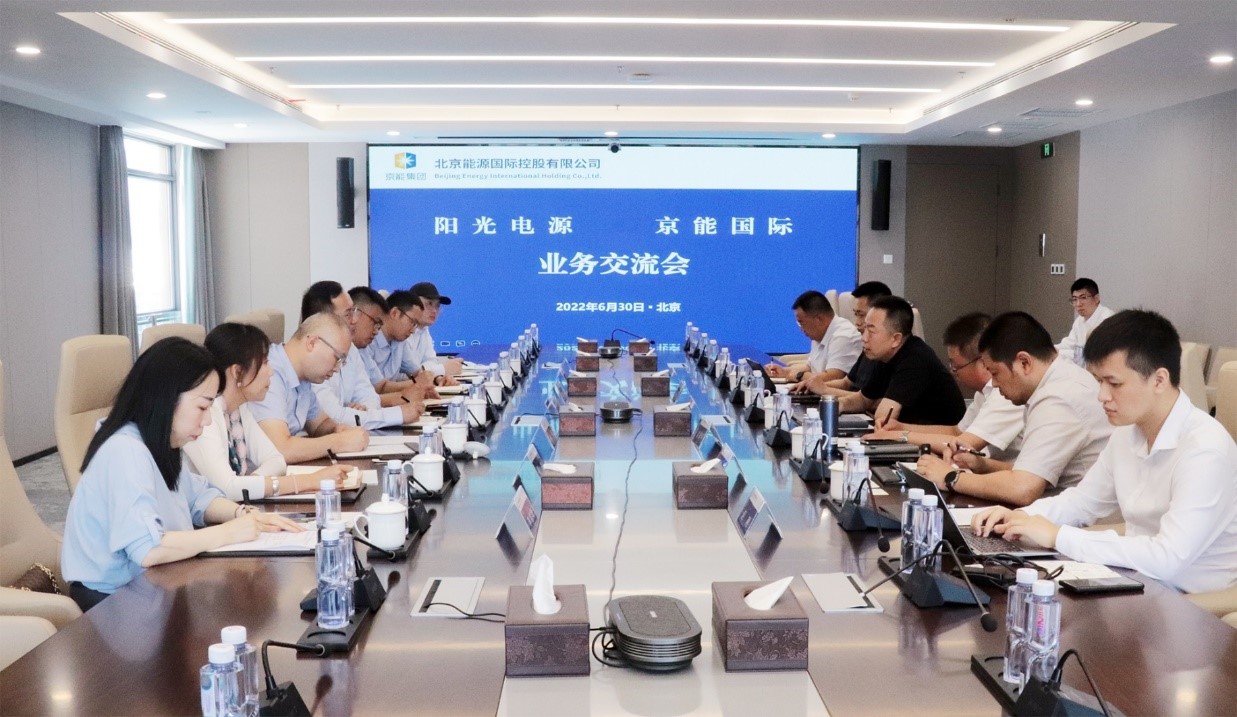 During the meeting, Zhang Ping welcomed Peng Chaocai and his delegation, and introduced the domestic and overseas business development and future planning of Beijing Energy International. He said that Sungrow Power is a leading enterprise in inverter and focuses on technology research and development and product quality. The two sides have already cooperated in new energy projects in the early stage. Given that Sungrow Power has expanded its wind energy and hydrogen energy business, which can effectively complement Beijing Energy International's overseas business. Thus, there will be enormous potential for cooperation. It is hoped that they both will speed up existing projects and continue to carry out all-round cooperation in joint development, investment and construction of new energy projects, and operation and maintenance services, so as to deliver mutual benefit and win-win result.
With the introduction of Sungrow's business development, Peng Chaocai said that Beijing Energy International has a leading expertise and a flexible mechanism and hopes that both sides can continue to build long-term cooperative relations on the basis of previous success, and carry out multi-dimensional cooperation on product, project and service with deepened cooperation, work together for common development as well as the rapid landing of relevant projects.