Zhu Jun, President of BJ ENERGY INTL Visited Ding Yinghu, Member of the Standing Committee of Dazhou Municipal Committee and Deputy Mayor of Sichuan Province
On September 28, 2022, Zhu Jun, President of Beijing Energy International visited Ding Yinghu, member of the Standing Committee of Dazhou Municipal Committee and Deputy Mayor of Dazhou City of Sichuan Province. The two sides exchanged on in-depth cooperation in new energy. Li Chao and Chun Yongfeng, Deputy Secretaries-General of Dazhou Municipal Government, leaders of Dazhou Development and Reform Commission, Economic and Information Bureau, Natural Planning Bureau, Forestry Bureau, Xuanhan County and Kaijiang County; Zhang Pengyuan, General Manager of Southwest Branch of Beijing Energy International, Wang Yaokun, Deputy General Manager of Jingneng (Yangxi) Integrated Energy Company and other relevant personnel attended the meeting.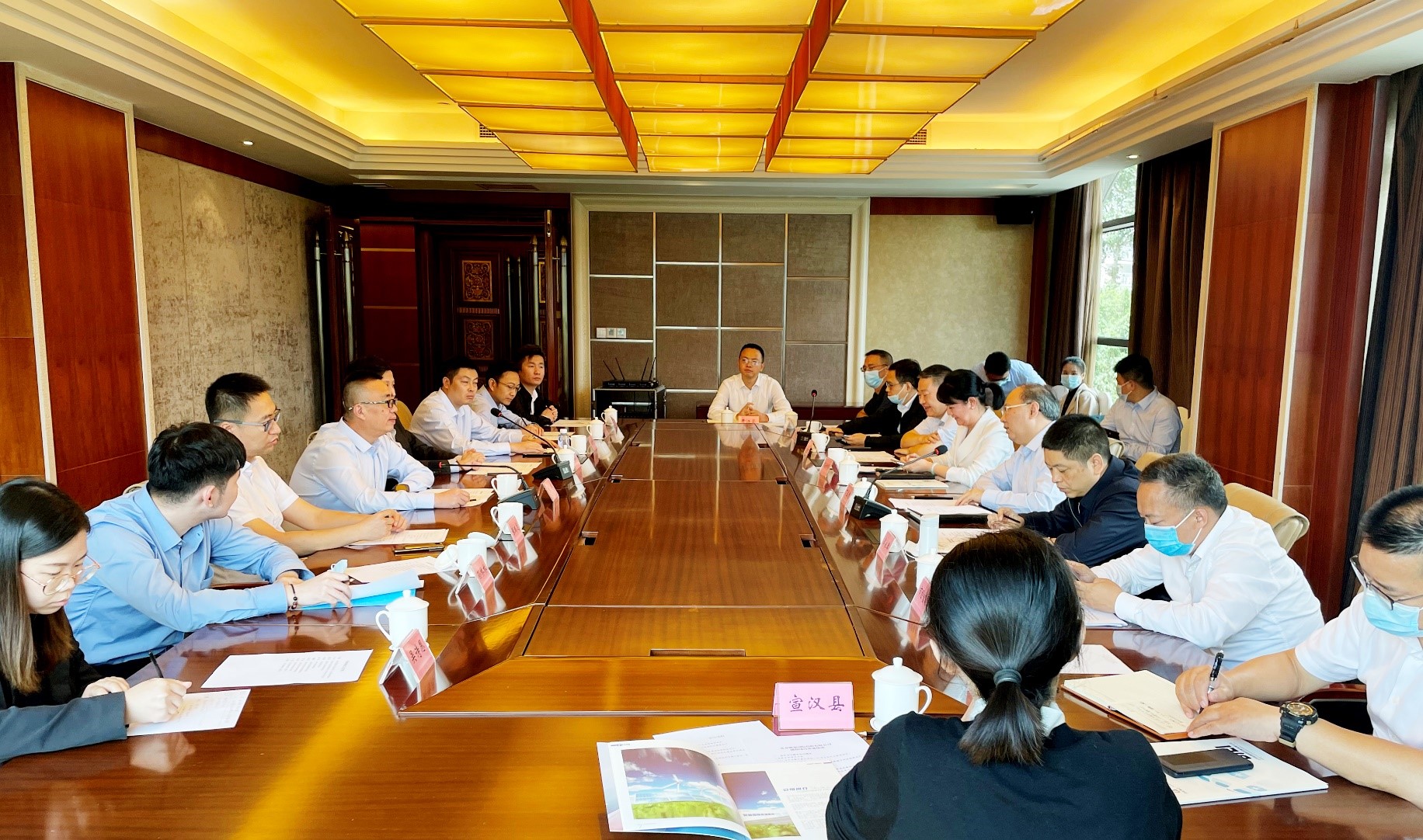 Ding Yinghu welcomed the visit of Zhu Jun and his delegation and introduced the clean energy resources and local development plan of Dazhou. He said that Dazhou has unique wind and solar power and gas resources, which constitutes a broad new energy market prospect. As a market leader, Beijing Energy International enjoys flexible and efficient mechanism and high development speed and has made remarkable achievements in the field of new energy. He welcomed the company to invest in Dazhou, and hope that the two sides will deepen cooperation in clean energy and integrated energy, etc. He said that the local government will provide all-round policy support and service guarantee, strengthen the pragmatic cooperation between local enterprises and complement each other's advantages.
Zhu Jun introduced the business development and future planning of Beijing Energy International. He said that the company, amid its high-quality and rapid development, has been committed to building a clean energy industry ecosystem featuring green and complementary development and smart integration. It attaches great importance to the new energy market in southwest China and looks forward to full cooperation with Dazhou in new energy. It will fully leverage its advantages as a SOE under mixed-ownership reform, with which it can actively introduce green manufacturing and carbon-neutral services, speed up the implementation of cooperation projects, participate in the construction of urban resource recycling industrial chain, and help Dazhou realize its rural revitalization and dual carbon goals.