BJ ENERGY INTL Met with the Committee and the Government of Chayouhou Banner of Inner Mongolia
On January 11, 2023, Zhang Ping, chairman of the Board of Directors of Beijing Energy International met with Cui Yong, secretary of the Chayouhou Banner Committee, Wulanchabu Prefecture, Inner Mongolia Autonomous Region in Beijing. The two sides exchanged on in-depth cooperation in new energy.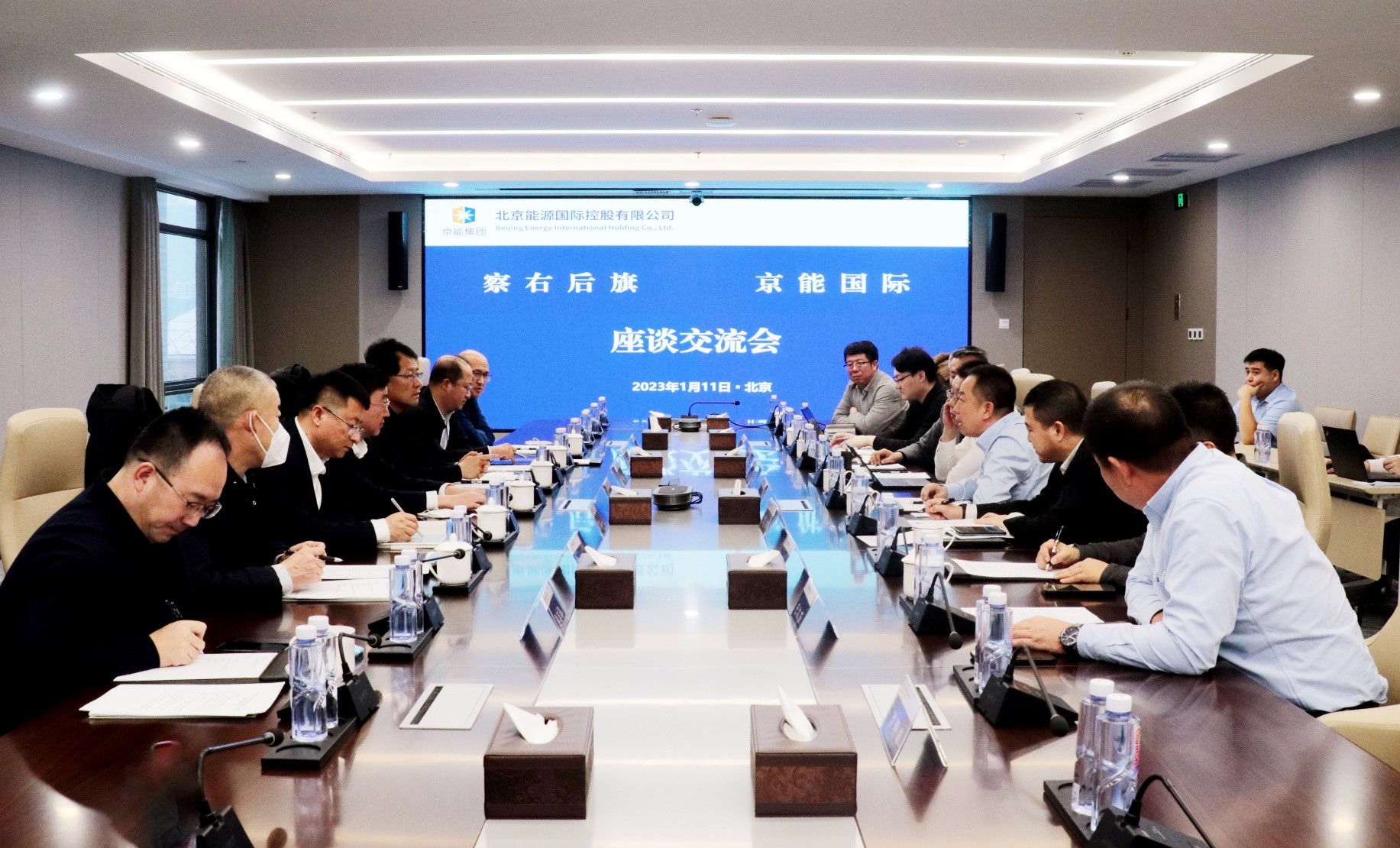 During the meeting, Zhang Ping welcomed Cui Yong and his delegation and introduced the basic situation and development plan of Beijing Energy International. He said that hydrogen energy, as an important development direction of new energy industry in the future, is amid a period of rapid development, and it is timely for the government of Chayouhou Banner and Beijing Energy International to reach a cooperation intention on hydrogen production projects with solar and wind energy. Going forward, Beijing Energy International will accelerate the project development process, and give full play to its specialized strengths with strategic partners in major areas such as project planning and design, investment estimation, acceptance, and project entry and approval, so as to help the Banner accelerate the construction of a clean, low-carbon, safe and efficient new energy system.
Cui Yong thanked the company for its strong support in developing new energy industry in Chayouhou Banner, and introduced the basic situation, industrial status, development advantages and conditions of the development zone. He said that the Banner is endowed with abundant wind and solar resources and rich water, representing a unique development advantage. It is hoped that the two sides will pragmatically deepen cooperation and strive to achieve more fruitful results by leveraging their complementary advantages in the win-win cooperation.
Zhao Longfei, director of the Management Committee of Wulanchabu New Materials Park, Qu Lisheng and Sun Yanjie, deputy Banner chiefs, Wang Jiang, director of the Banner Development and Reform Commission, Wu Dehua, director of the Banner Industry and Information Bureau, and Lu Zhiguo, director of the Banner Investment Promotion Center; Jia Geng, Wu Chaoke and Jin Xin, vice presidents of Beijing Energy International, Sun Rui, deputy general manager of Strategic Investment Department, Baltsa, deputy general manager of North Branch Company and other relevant personnel attended the meeting.