BJ ENERGYINTL Held Talks with the Xincheng District Committee and District Government of Hohhot
On February 25, 2023, Wu Chaoke, vice president of Beijing Energy International, met with Yin Shugang, deputy secretary of the Xincheng District Committee and head of Xincheng District Government of Hohhot, Inner Mongolia Autonomous Region. The two sides exchanged on in-depth cooperation in new energy.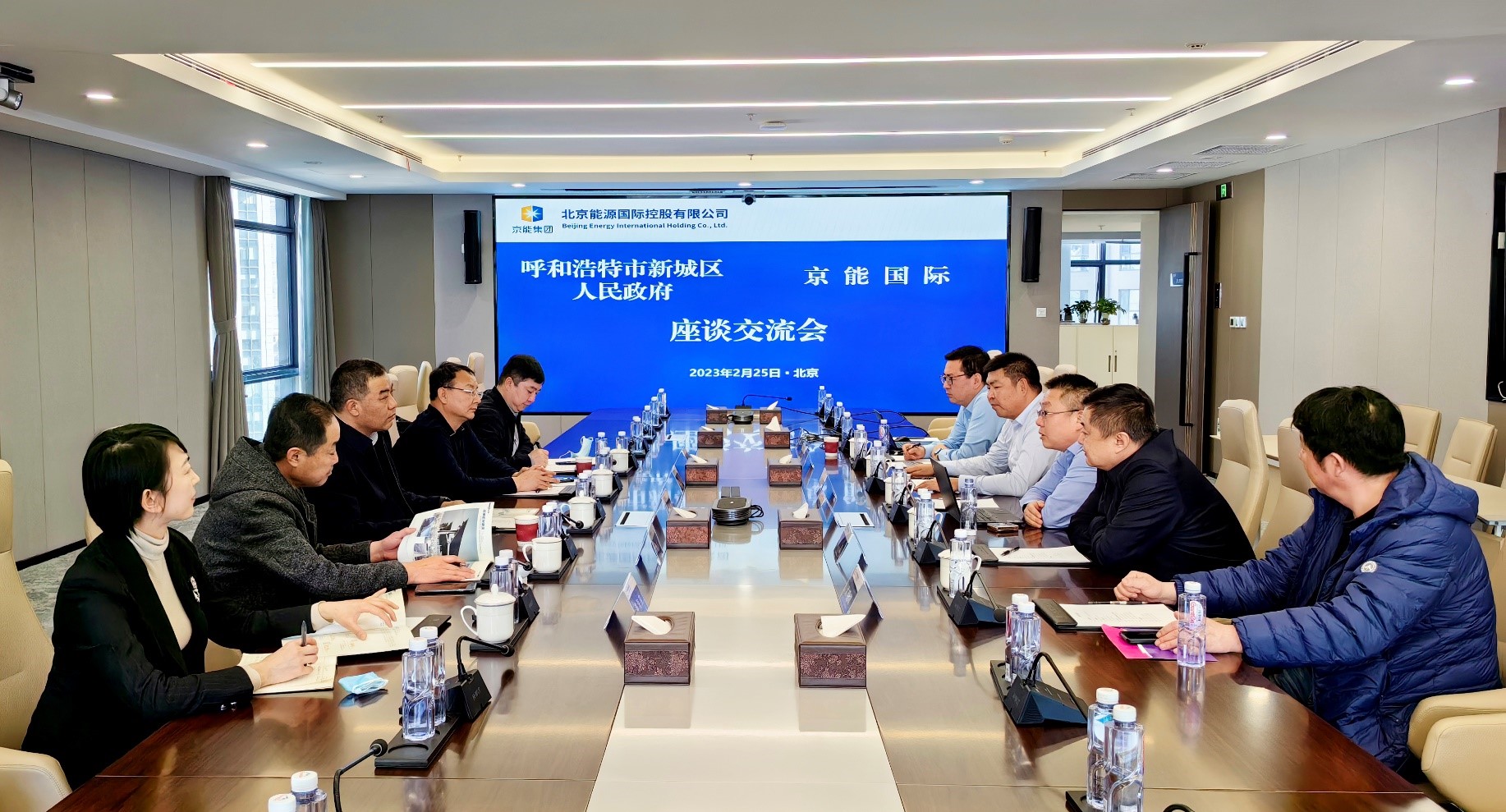 During the meeting, Wu Chaoke welcomed Yin Shugang and his delegation, and introduced the development course and future planning of Beijing Energy International. He said that the company has resolutely responded to Hohhot's low-carbon and clean energy development strategy, attached great importance to and actively participated in the transformation and upgrading of the energy structure in Xincheng District. It is hoped that the two sides will fully use their respective advantages in resources, expertise and location, and jointly carry out win-win cooperation in hydrogen production with green electricity, substitution with green electricity and distributed power supply to achieve the national dual carbon goal at an early date.
Yin Shugang introduced the general situation, industrial layout and development planning of Xincheng District. He said that the two sides are highly aligned on the development concept of new energy industry and enjoy broad space for cooperation. It is hoped that they will take this meeting as an opportunity for cooperation, jointly plan and develop major energy projects, and explore the pathways of integrated energy reform as well as green and low-carbon development.
Yun Haifeng, member of the Party Group of Xincheng District Government, Han Yaozhen, director of Investment Promotion Bureau of Jinshan High-tech Development Zone, director Gao Xin and deputy director Hao Haiyan of Regional Economic Cooperation Bureau of Xincheng District; Liu Lei, general manager of North Branch Company of Beijing Energy International, and other relevant personnel attended the meeting.