BJ ENERGY INTL and PowerChina Guizhou Engineering to Accelerate Comprehensive Cooperation
On March 2, 2022, Jia Geng, Vice President of Beijing Energy International met with Chen Jiandong, Assistant General Manager of PowerChina Guizhou Engineering and General Manager of Business and Finance Center in Beijing. The two sides fully reviewed the relevant contents of the strategic cooperation agreement, focusing on concrete communication and arrangements for the follow-up cooperation. Li Bangzhong, General Manager of Marketing and Branding Department of PowerChina Guizhou Engineering, Ren Tingkai, Deputy General Manager of Business and Finance Center; Zhao Li, Investment Director of Beijing Energy International, Liu Jiguang, General Manager of Business Planning Department and other relevant personnel attended the meeting.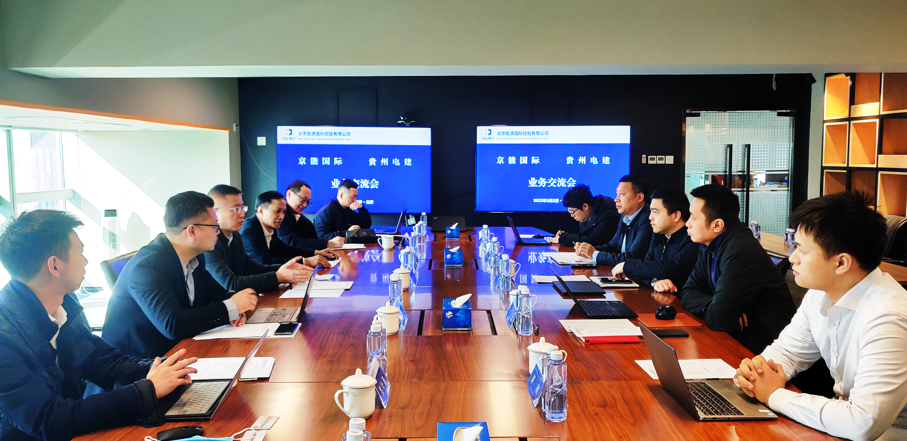 During the meeting, the two sides exchanged views on the development of the industry and future cooperation, discussed the next-step arrangement regarding cooperation mode, and aligned on specific project status, implementation progress, handover scheme and contractual terms and conditions.
Jia Geng welcomed the visit of Chen Jiandong and his delegation and introduced the recent progress in cooperation. He said that a special working group would be set up earlier to clarify the timeline and accelerate future work. The two companies are strategic partners with highly aligned development concepts. Jia hoped that the two sides could leverage their advantages, make further innovations and achieve win-win results.
Chen Jiandong introduced the business, project and future planning of the company, and responded in detail to the specific issues concerned in the acquisition process of follow-up project by Beijing Energy International. He said that Beijing Energy International enjoyed great industrial strength and flexible mechanism, and hoped that both sides would maintain long-term friendly and cooperative ties, further expand areas for cooperation, effectively promote joint projects to land as soon as possible, and work closely for common development.