Zhu Jun, President of BJ ENERGY INTL, Met with Yin Rongfeng, Party Secretary of Xiajiang County, Jiangxi Province
On March 3, 2022, Zhu Jun, President of Beijing Energy International, met with Yin Rongfeng, Party Secretary of Xiajiang County, Ji'an City, Jiangxi Province. The two sides had an exchange on the development of new energy projects and the cooperation and development of photovoltaic industry. Long Zuli, member of the Standing Committee and Deputy Magistrate of Xiaxian County, Lou Zhiqing, Director of the County Commission Office, and Li Wenqing, Director of the Bureau of Commerce; Wang Liuhu, Vice President of Beijing Energy International, Zhao Li, Investment Director and other relevant personnel attended the meeting.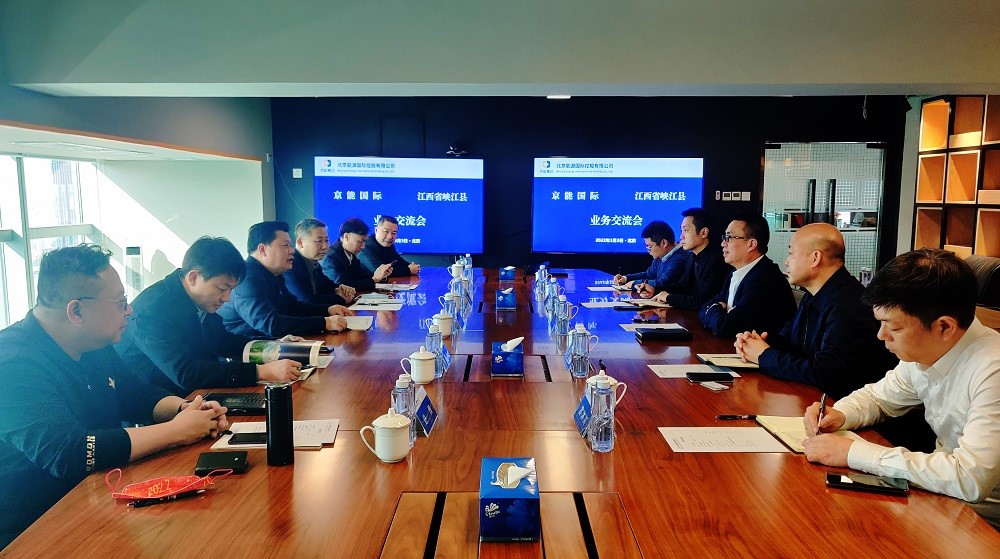 Zhu Jun welcomed Yin Rongfeng and his delegation and introduced the industrial highlights and business development of Beijing Energy International at home and abroad. He said that Xiajiang County possessed rich natural resources, clear economic development plan, and pragmatic measures for new energy industry and had laid the groundwork for the company to carry forward its clean energy project locally. It is hoped that both sides can achieve long-term cooperation, capitalize on their respective strengths, study and deploy the cooperation mode of clean energy projects, expediate project implementation, and jointly promote the ecological development of photovoltaic industry in the county.
Yin Rongfeng introduced local economic development in the county. He said that it had scored some achievements in advancing new energy industry, and the planning objectives of the next stage were highly compatible with the direction of Beijing Energy International. He welcomed the company to pay a field tour at its earliest convenient time and hoped that the two sides closely synergized with each other, actively substantiate the cooperation around clean energy project and photovoltaic industry development and open up a new chapter of mutual benefit and coordinated development.