BJ ENERGY INTL and Xuan Steel Signed a Cooperation Agreement on Green Energy and Zero- carbon Demonstration Park for Manufacturing Industry
On March 8, 2022, Zhang Ping, Chairman of the Board of Directors of Beijing Energy International visited Wang Hongbin, Chairman of Xuan Steel and the two sides had in-depth exchanges on comprehensive cooperation in new energy and signed a cooperation agreement on green energy and zero-carbon demonstration park for manufacturing industry. Zheng Aijun, General Manager of Xuan Steel, Liu Jin, Deputy General Manager, Tian Weiping, Director of Transformation and Development, Li Jiangang, Director of Operation and Finance, Zhang Shuai, Assistant Director of Equipment and Energy, Jia Geng, Vice President of Beijing Energy International, Liu Pengfei, Director of Administration Department, He Kun, General Manager of Northeast Branch and other relevant personnel attended the meeting.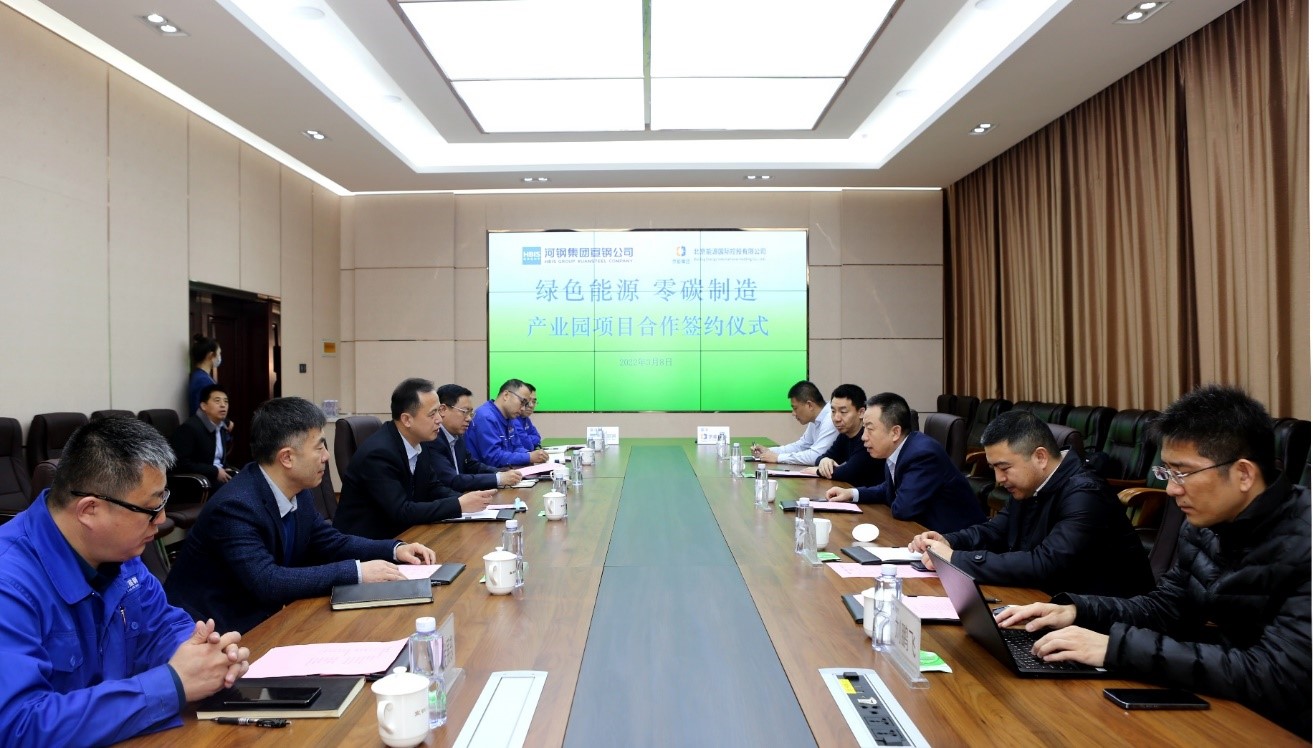 Wang Hongbin extended a warm welcome to Zhang Ping and his delegation at the outset and introduced the current business and energy industry development plan of Xuan Steel. He said that Beijing Energy International was well-known for its high efficiency and strong expertise, and that the two sides trusted each other and aligned on their development concept. He hoped to establish a long-term strategic cooperative relationship, jointly achieve win-win cooperation, which will enable Xuan Steel to transform itself into one that fully serves steel and high-end equipment manufacturing and become a model of transformation and upgrading of HBIS Group and the whole industry at large.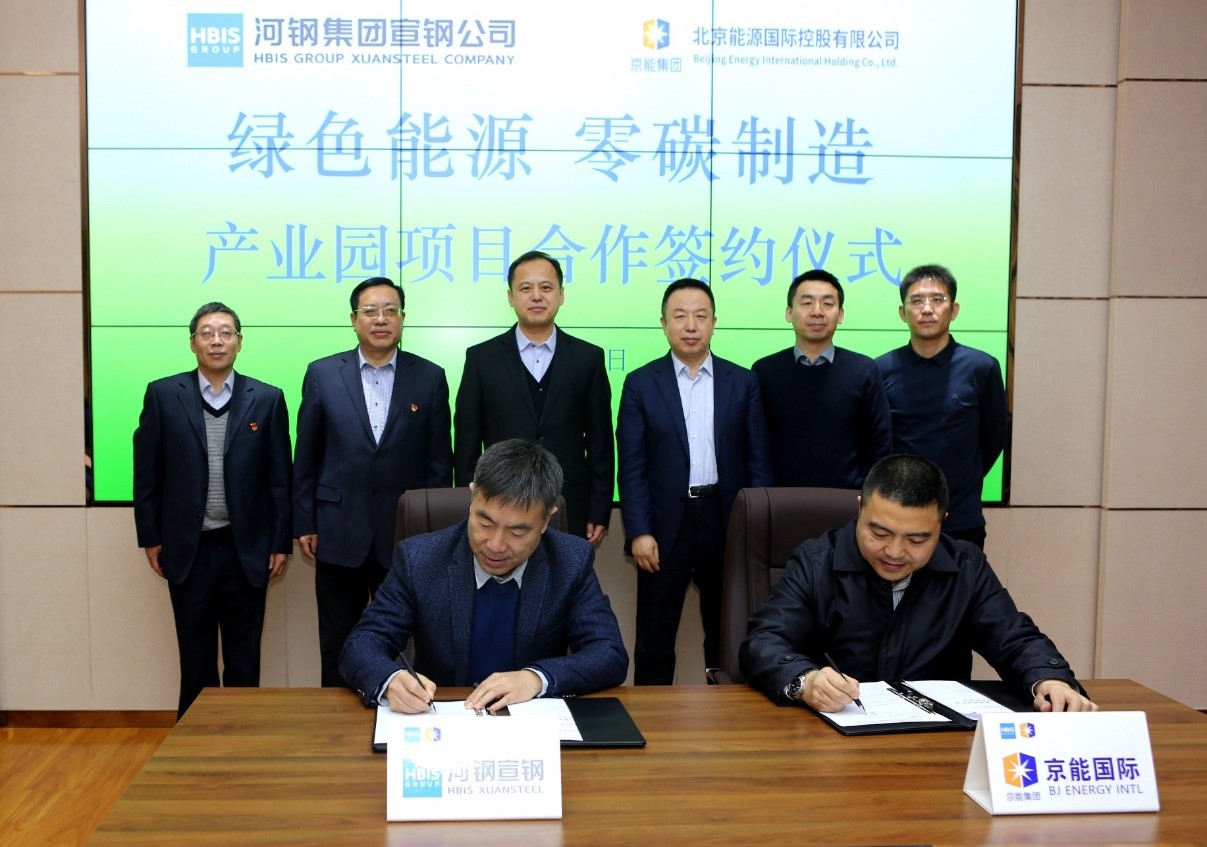 Zhang Ping introduced the recent developments and future planning of Beijing Energy International. He said that the two sides reached an agreement on the cooperative operation mode in the early stage, and the next step would be to develop a milestone plan as soon as possible, expediate the project, and work together to build a new energy industry demonstration industrial park. According to him, the two sides should tap the potential within the industrial system of Xuan Steel, fully cooperate in integrated energy, green hydrogen, energy storage and new technologies, and become a long-term partner. With strong synergy and complementary advantages, the company will help Xuan Steel to achieve innovative and green development and promote the integrated and coordinated development of the Beijing-Tianjin-Hebei region.
According to the agreement, the two sides will jointly explore and plan the Green Energy Industry Research Institute, and plan and incubate key new energy projects; Jointly carry out the investment, construction and operation of new energy projects, and all the green electricity produced will be used by Xuan Steel; Further introduce new energy high-end equipment production and equipment technology, including the research and utilization of hydrogen production technology, to build a demonstration industrial park of green energy industry and zero-carbon manufacturing technology for Xuanhua District of Hebei Province, to promote the reform of regional energy structure and green energy industry in the District.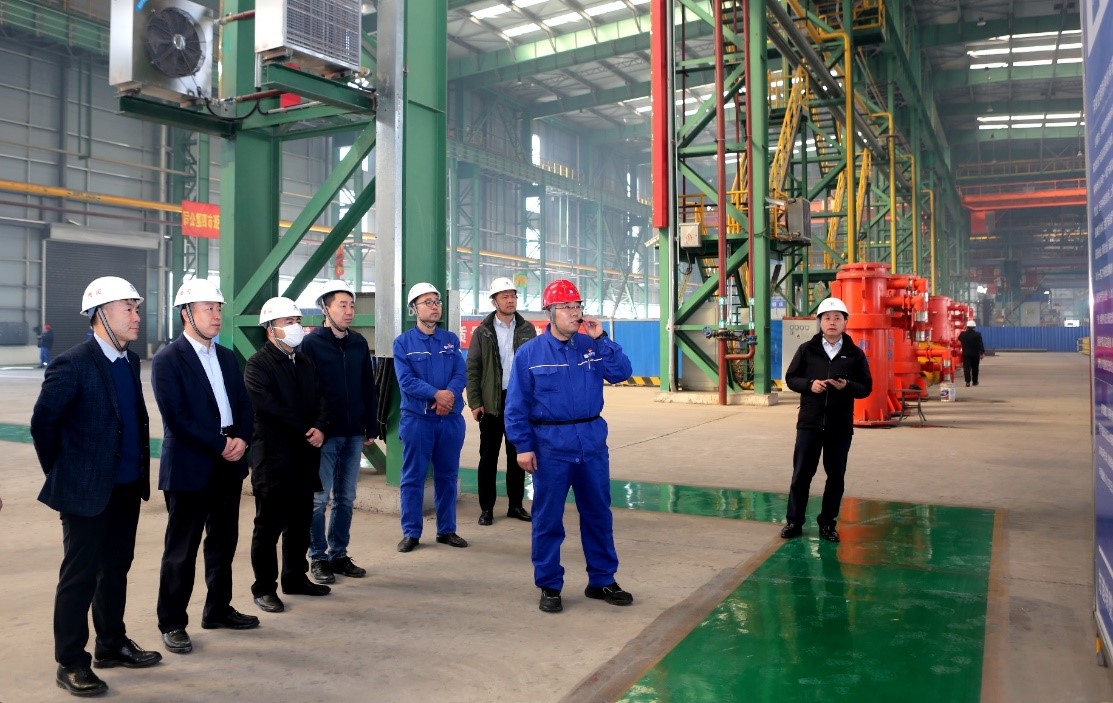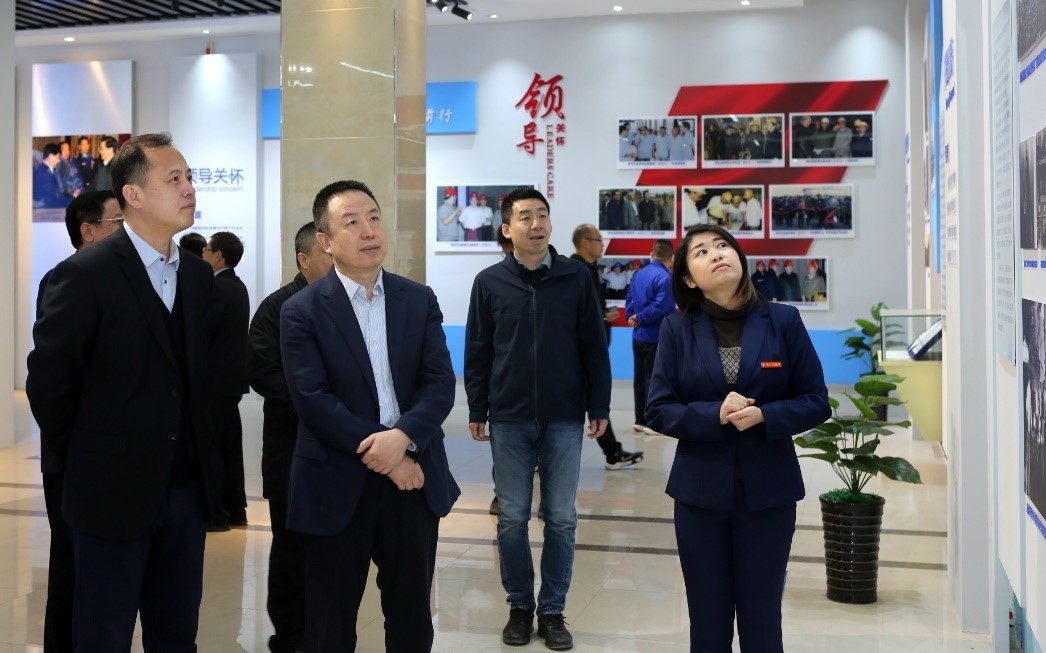 After the meeting, participants visited the exhibition hall, special materials factory and hydrogen metallurgy factory of Xuan Steel.