BJ ENERGY INTL Held Its 2021 Performance Roadshow:New Highs Attract Market Attention
On April 27, 2022, Beijing Energy International held its 2021 Performance Roadshow virtually in Beijing. Zhang Ping, Chairman of the Board of Directors, Liu Dongsheng, Vice President, and Huang Hui, Chief Financial Officer, attended the meeting. More than 50 well-known investment banking analysts and institutional investors at home and abroad, including BOC International, Citigroup, Merrill Lynch, China Securities and Huatai Securities, attended the online event.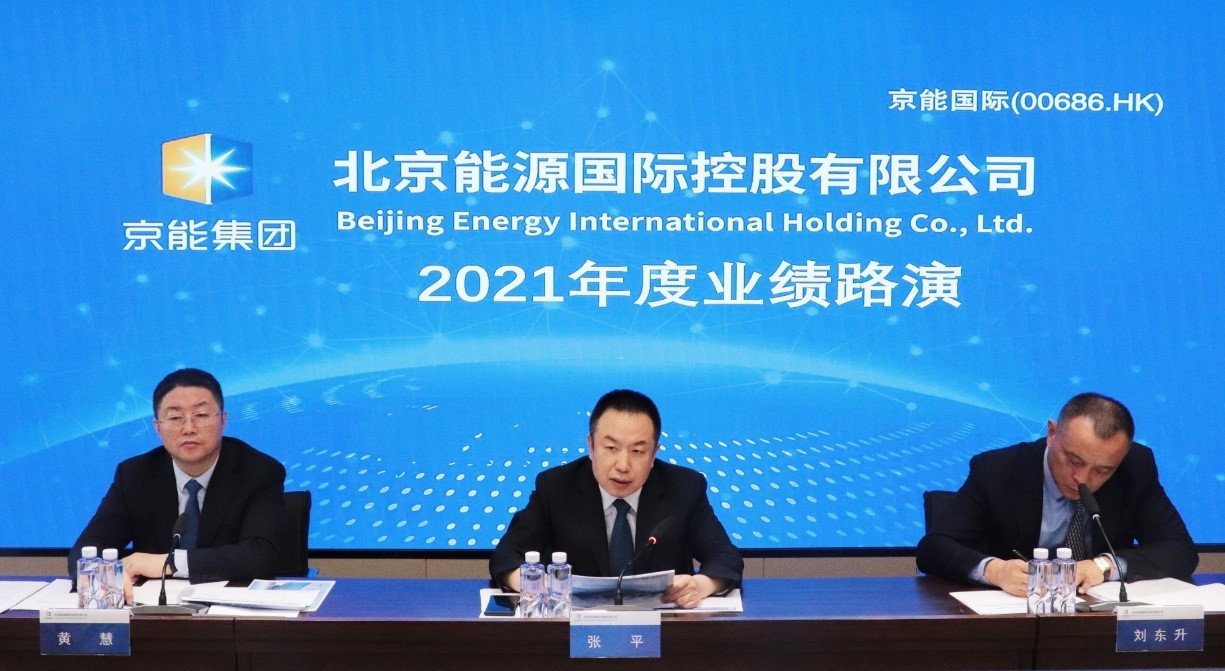 During the roadshow, the senior management team announced the 2021 annual results, including its operation and production, future development and key measures taken. In the course of the year, the company reshaped its strategic development plan, promoted the reform of its system and mechanism, fully expanded its market, and turbocharged the development momentum. Its operating income and total profit reached a new high, marking a new journey of high-quality and rapid development. The annual performance data shows that in 2021, it achieved an operating income of 2.825 billion yuan, a year-on-year increase of 31.46%. The net profit was 650 million yuan, a year-on-year increase of 148.09%; Total assets of 46.159 billion yuan, up 76.94% year-on-year. Earnings per share was 2.51cents, a year-on-year increase of 124%. By the end of 2021, the total installed capacity is about 5.5 million kilowatt hours, which is 190% higher than that of pre-restructuring level in February 2020. Its total controlled and confirmed installed capacity has reached 12 million kilowatts.
The roadshow attracted market attention and was widely reported by the media in capital market. Many well-known stock critics analyzed its prospect and made positive recommendations.
Among them, Mr. Chen Yonglu, a well-known independent stock critic in Hong Kong, pointed out in the column of Ta Kung Pao that "In the context of carbon peaking and carbon neutrality goals, there is no doubt about the long-term development opportunity of clean energy. The Chinese Government Work Report pointed out that in 2022, the planning and construction of large-scale wind and solar power bases and their supportive regulated power sources should be promoted, so as to enhance the power grid's capacity to absorb renewable energy. Benefiting from the national policy, Beijing Energy International has shown great strength, and it is now appropriate to have its stock at the current price and hold it in the medium term. In addition, driven by the mainland's policy of continuously boosting green energy, coupled with the company's excellent growth potential and its expected P/E ratio standing lower than 6x, the current price is notably and absolutely attractive."
Mr. Cen Zhiyong, a well-known independent stock critic, pointed out on AASTOCKS that "China will become the main growth driver of renewable energy production capacity in the next few years. Beijing Energy International is mainly engaged in the development, investment, operation and management of solar power stations and other renewable energy projects. Its shareholders have a strong background, and its development prospects are bolstered by the national policy, so it is worthy of attention, and its prospect is promising."
In addition, other column critics believe that "In 2022, Beijing Energy International will continue to implement the development ideas and objectives of the 14th Five-Year Plan, earnestly implement the wind and solar power strategy, expand the scale of base projects and highlight the characteristics of distributed projects. The company is ever expanding its reserve projects, which can strongly support its future expansion. It will also gradually increase the proportion of independent development projects. At present, the number of its reserve projects is sufficient. It is estimated that the installed capacity will exceed 15 GW in 2025, and the growth in the next few years will be guaranteed. Its development prospect is worth positive expectations."