On June 13, 2022, Zhang Ping, Chairman of the Board of Directors of Beijing Energy International met with Lv Yunhe, Vice President and Chief Representative of ACWA Power(China) in Beijing. The two sides had an in-depth exchange on strategic cooperation in the field of clean energy. Li Xinyi, head of China Investment and Investor Relations at ACWA Power, Yang Yi, Supervisor of China Financing and Banking Relations, and Yu Chen and Liu Junxi, Investment and Financing managers; Zhu Jun, President of Beijing Energy International, Jia Geng, Vice President, Zhao Li, Investment Director, Liu Yang, General Manager of Financing Management Center and other relevant personnel attended the meeting.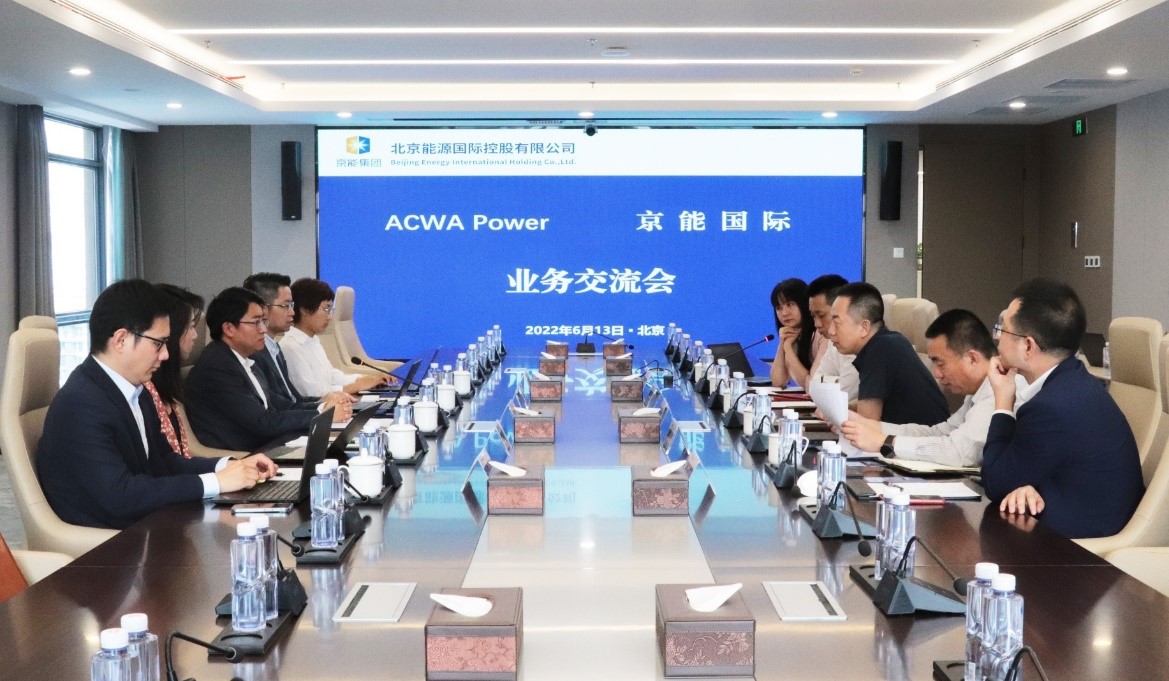 During the meeting, Zhang Ping welcomed Lv Yunhe and his delegation, and introduced the development of Beijing Energy International and its domestic and overseas investment planning. He said that ACWA Power has long been committed to leading the energy transformation and advocating a decarbonized and sustainable future, which is highly aligned with the development philosophy of Beijing Energy International. ACWA Power has landed many influential new energy projects all over the world and built up strong professional strengths. The company strongly expects both sides to capitalize on their respective industry experience, starting with project cooperation, gradually expanding it in the future, and delivering on the green development vision of "lucid waters and lush mountains" of the country.
Lv Yunhe introduced ACWA Power's global business and strategic layout. He said that the company prioritized China's new energy market and hoped to have in-depth cooperation with China's state-owned enterprises. As a pioneer enterprise of mixed-ownership reform, Beijing Energy International has achieved remarkable results in the past two years. The concepts of investment and development of both sides are highly consistent. It is hoped that both will cooperate on a project-driven basis, and strengthen cooperation in green space project development, especially green electricity hydrogen production and energy base project development and join forces to expand their presence in China's new energy market, so as to continuously increase the strong impact of both sides.