On June 29, 2022, Zhang Ping, Chairman of the Board of Directors of Beijing Energy International met with Tong Shumeng, Board Director and Partner of China Soft Capital Management Group in Beijing. The two sides exchanged views on cooperation in clean energy. Bai Lian, Vice President of China Soft Capital, Wang Huilei, Assistant of Board Director, Dong Shufan, Senior Investment Manager, Zhou Ping, Assistant Secretary General of China Carbon Neutrality Forum (CNF50), Wu Chaoke, Vice President of Beijing Energy International, Zhao Li, Investment Director, Liu Lei, General Manager of North Branch, and other relevant personnel attended the meeting.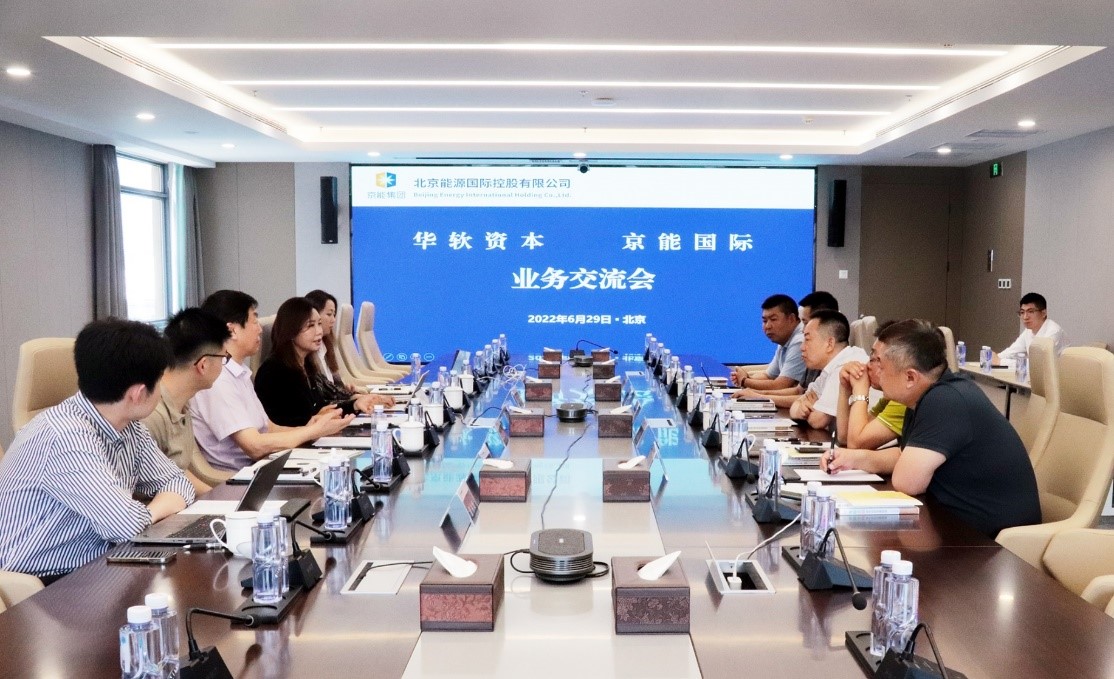 During the meeting, Zhang Ping welcomed Tong Shumeng and her delegation, and introduced the business development and future planning of Beijing Energy International. He said that the company has actively capitalized on its market-oriented advantages, intensified the development of large-scale base projects, actively explored model innovation and new development paths, and enjoyed its high-quality and rapid development. He pointed out that China Soft Capital has abundant resources and advantages in the green financial industry, which is aligned with the development vision of Beijing Energy International and that there will be huge room for cooperation. It is hoped that the two sides will strengthen exchanges, carry out all-round cooperation in areas such as serving the country's major strategies and developing new energy bases, achieve mutual benefit and facilitate the earlier attainment of dual carbon goals.
Tong Shumeng introduced the development and key business segments of China Soft Capital. She said that the company prioritized on asset management. Since its establishment, it has deeply invested in national strategic emerging industries, taking new energy, new generation information technology, high-end equipment manufacturing, energy conservation and environmental protection, education and health as its main investment targets, and jointly launched the CNF50 with a number of partners to jointly promote China's green and low-carbon transformation. She spotlighted that as a leading champion with rapid development, Beijing Energy International has a remarkable performance in the new energy industry. China Soft Capital attaches great importance to the future cooperation prospects with Beijing Energy International, and hopes that both sides will foster long-term, stable, mutually trusted and mutually beneficial strategic partners with strong alliance and win-win spirit.