On June 28, 2022, Beijing Energy International held talks with the government of Miyun District of Beijing. The two sides exchanged on cooperation in new energy and integrated energy. Chen Weihang, deputy head of Miyun District, Li Changquan, director of (State-owned Assets Supervision and Administration Commission, SASAC), Su Boyu, deputy director of SASAC, Wang Zhenqun, deputy director of National Development and Reform Commission, Bai Dapeng, deputy director of Agriculture and Rural Bureau of Miyun District, Li Yuhai, vice president of Beijing Energy Holding Co., Ltd., Zhu Jun, president of Beijing Energy International, Fan Liyun, general manager of North China Branch, Zhang Zhaoyi, deputy general manager of Integrated Smart Energy Company, and other relevant personnel attended the meeting.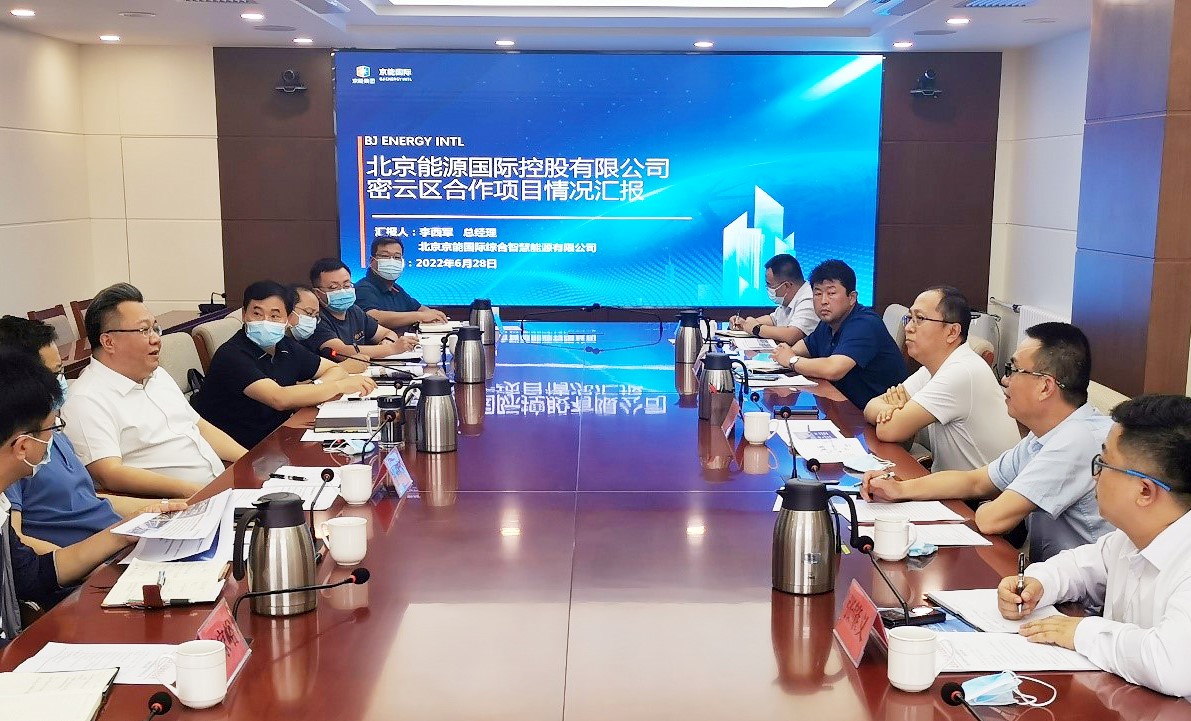 During the meeting, Zhu Jun introduced the company's business development and future planning. He said that, as a pilot SOE for mixed-ownership reform and a listed company, Beijing Energy International has leading-edge expertise and a flexible mechanism. It has always aligned itself with Beijing Energy Holding's goal of serving the capital city and attached great importance to business investment and construction in Miyun District. Going forward, it will focus on the positioning of Miyun Ecological Conservation Area, actively explore the pathway of integrating agriculture, cultural tourism and energy, take new energy and integrated energy as the starting point, and steadily ramp up investment in the district, expediate industrial integration projects and promote local economic development.
Li Yuhai said that Beijing Energy Holding, as a state-owned enterprise of the capital city, focuses on main business such as electric power, heat power and real estate, and actively lays out multi-format industrial patterns such as cultural tourism and health care through synergizing industry and finance. Beijing Energy Holding and Miyun District government have always maintained a friendly cooperative relationship. Beijing Energy International has shown a strong momentum of development in the past two years, as evidenced by its remarkable achievements. It is hoped that Beijing Energy International will continue to capitalize on its professional, technical and market-oriented advantages, combined with Beijing Energy Holding's advantages in multi-business sectors, accelerate the construction of new energy and integrated energy investment in the district, transform regional resource strengths into economic advantages, unleash the vitality of regional agriculture, tourism and other industries, adjust and upgrade regional energy structure, and help local government achieve the two strategic goals of carbon peaking and carbon neutrality as well as the rural revitalization.
Chen Weihang welcomed the visit of Beijing Energy Holding and Beijing Energy International and introduced the energy development and industrial layout of Miyun District. He pointed out that since its establishment in 2018, the SASAC of Miyun District has successively established seven joint venture platform companies with major municipal state-owned enterprises, etc., to optimize the overall planning of resources in the district, and strive to build state-owned assets bigger, stronger and better, and build a benchmark ecological conservation area for sustainable development. He said that the two sides are highly aligned on clean energy development, and there is enormous room for cooperation. Beijing Energy International is a popular investor in the district. It is hoped that both sides will leverage their respective advantages, carry out comprehensive strategic cooperation by integrating agriculture, cultural tourism and energy, accelerate the implementation of cooperation projects, innovate to achieve mutual benefit and win-win results, and contribute to the green and low-carbon development of the energy sector.