BJ ENERGY INTL Held Business Talks with the Beijing Branch of China Minsheng Bank
On July 26, 2022, Zhang Ping, Chairman of the Board of Directors of Beijing Energy International met with Mo Xiaofeng, Vice President of the Beijing Branch of China Minsheng Bank Co., Ltd. in Beijing. The two sides had an in-depth discussion on financial business cooperation in clean energy. He Qiuhu, General Manager of Investment Banking Department of Minsheng Bank Beijing Branch, Zhao Rui, Assistant General Manager, Wang Yabing, Assistant General Manager of Strategic Clients Department, Zhang Kai, General Manager of Wanliu Sub-branch of Beijing Branch; Huang Hui, Vice President of Beijing Energy International, Wang Yang, Chief Financial Officer and other relevant personnel attended the meeting.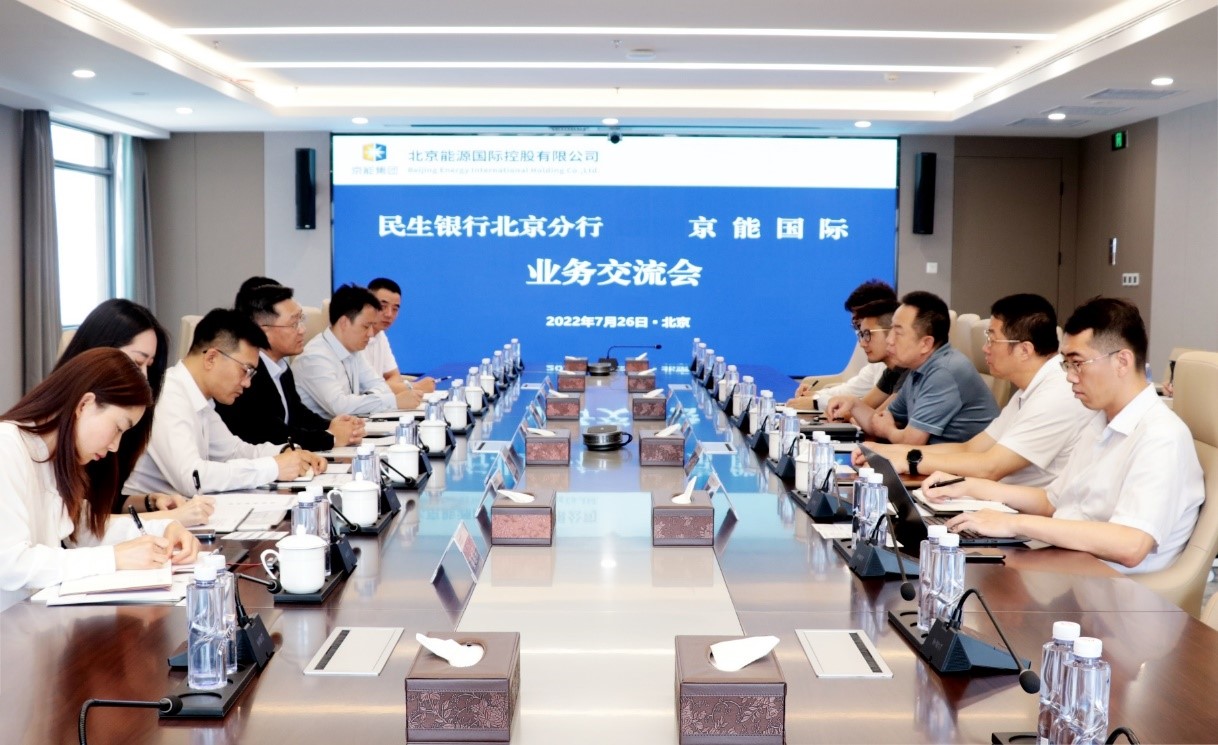 During the meeting, Zhang Ping welcomed the visit of Mo Xiaofeng and his delegation, and introduced the development and future planning of Beijing Energy International. He said that the company, as a pilot SOE for mixed-ownership reform, is embracing high-quality and rapid development based on its flexible mechanism and efficient decision-making capacity. The two sides are highly aligned on green energy and hope to deepen cooperation in the future through fostering long-term partnership, improving innovation and development, and thus contribute to the early attainment of the national dual carbon goals.
Mo Xiaofeng introduced the financial service model and professional advantages of Minsheng Bank. He said that Minsheng Bank focuses on the professional services of strategic customers, closely follows the strategic planning of enterprises, promotes the innovation of future service models, and promotes the green transformation of social and economic development by supporting national new energy projects. Minsheng Bank attaches great importance to the future cooperative prospects with Beijing Energy International and hopes that both sides will fully leverage their respective professional advantages, deepen the strategic relationship, and create mutual benefit and common development.