On July 26, 2022, Zhang Ping, Chairman of the Board of Directors of Beijing Energy International met with Liang Zhengping, Party Secretary and Chairman of North China Power Engineering Consulting Group in Beijing. The two sides had in-depth exchanges on business cooperation. Li Yinan, Deputy Party Secretary and Deputy General Manager of North China Power Engineering Consulting Group, Cao Yujie, Deputy General Manager, Nie Hengkuan, Deputy Chief Engineer and General Manager of Energy Power Company, Liu Changqing, General Manager of New Energy Company, and Lu Zhijuan, General Manager of Market, Investment and Financing Department; Jia Geng and Wang Liuhu, Vice Presidents of Beijing Energy International, Guo Liang, General Manager of Overseas Business Department, Li Jian, Head of the Preparatory Group of Hainan Investment Platform, Wang Qi, Executive Director and Li Xijun, General Manager of Integrated Energy Company, and other relevant personnel attended the meeting.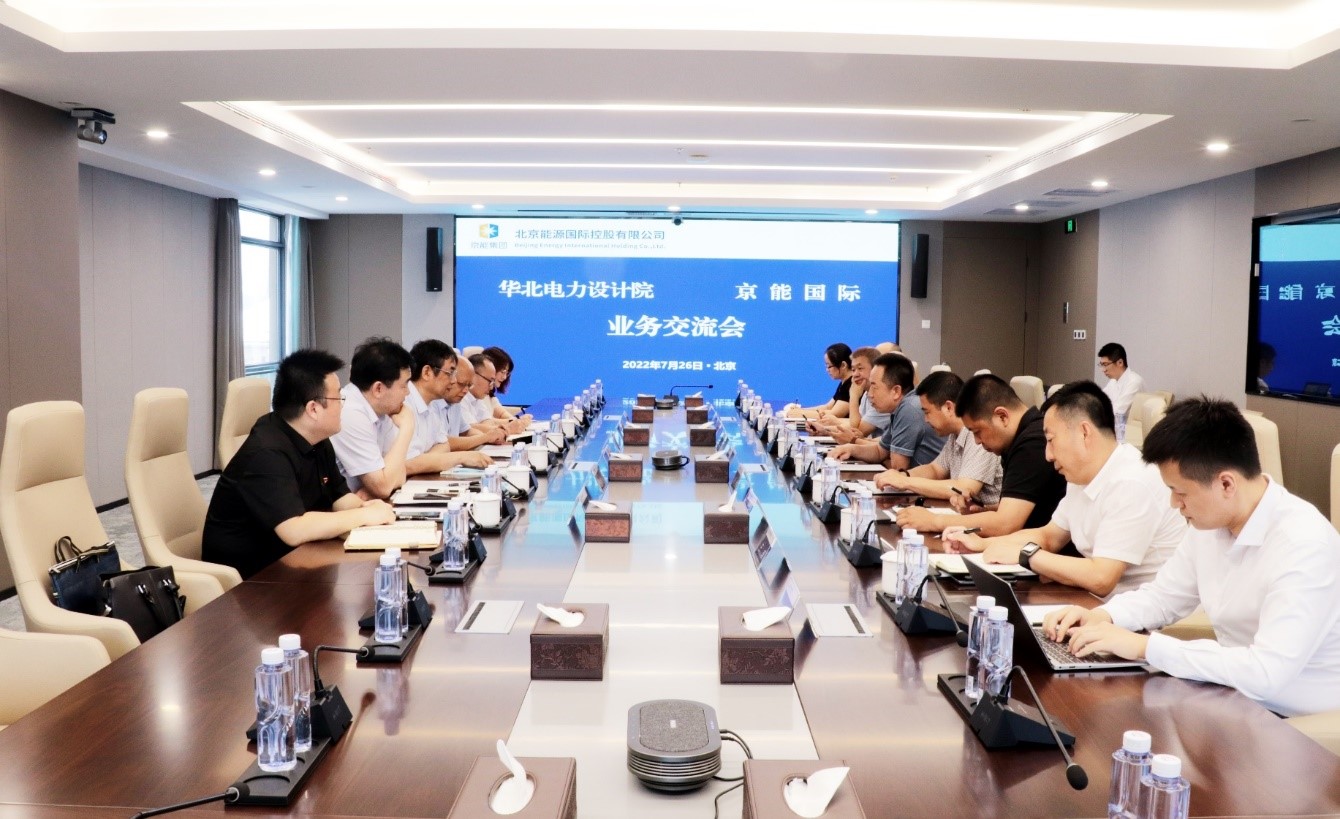 Zhang Ping welcomed Liang Zhengping and his delegation and introduced the business development and future planning of Beijing Energy International. He said that the two companies are strategic partners, with close contact and smooth communication. It is hoped that on the basis of accelerating the rapid achievement of existing project cooperation between the two sides, they will further broaden cooperation, and work together for mutual benefit and win-win results in new energy project development, new energy storage technology application and capital market cooperation.
Liang Zhengping introduced the overall business development of North China Power Engineering Consulting Group. He said that Beijing Energy International has a leading expertise and a flexible mechanism and has demonstrated highly professional capability and quick response capacity in existing project cooperation. The two sides will continue to work closely, maintain a long-term friendly cooperative relationship, so as to promote wider and deeper business cooperation.