Jiang Fan, Party Secretary and Chairman of Beijing Energy Holding Supervised BJ ENERGY INTL
On August 11, 2022, Jiang Fan, Party Secretary and Chairman of Beijing Energy Holding, together with Vice Presidents Chen Guogao and Sui Xiaofeng, and heads of relevant departments and offices visited Beijing Energy International for supervision. The high-level management team, directors and relevant department heads of Beijing Energy International attended the meeting.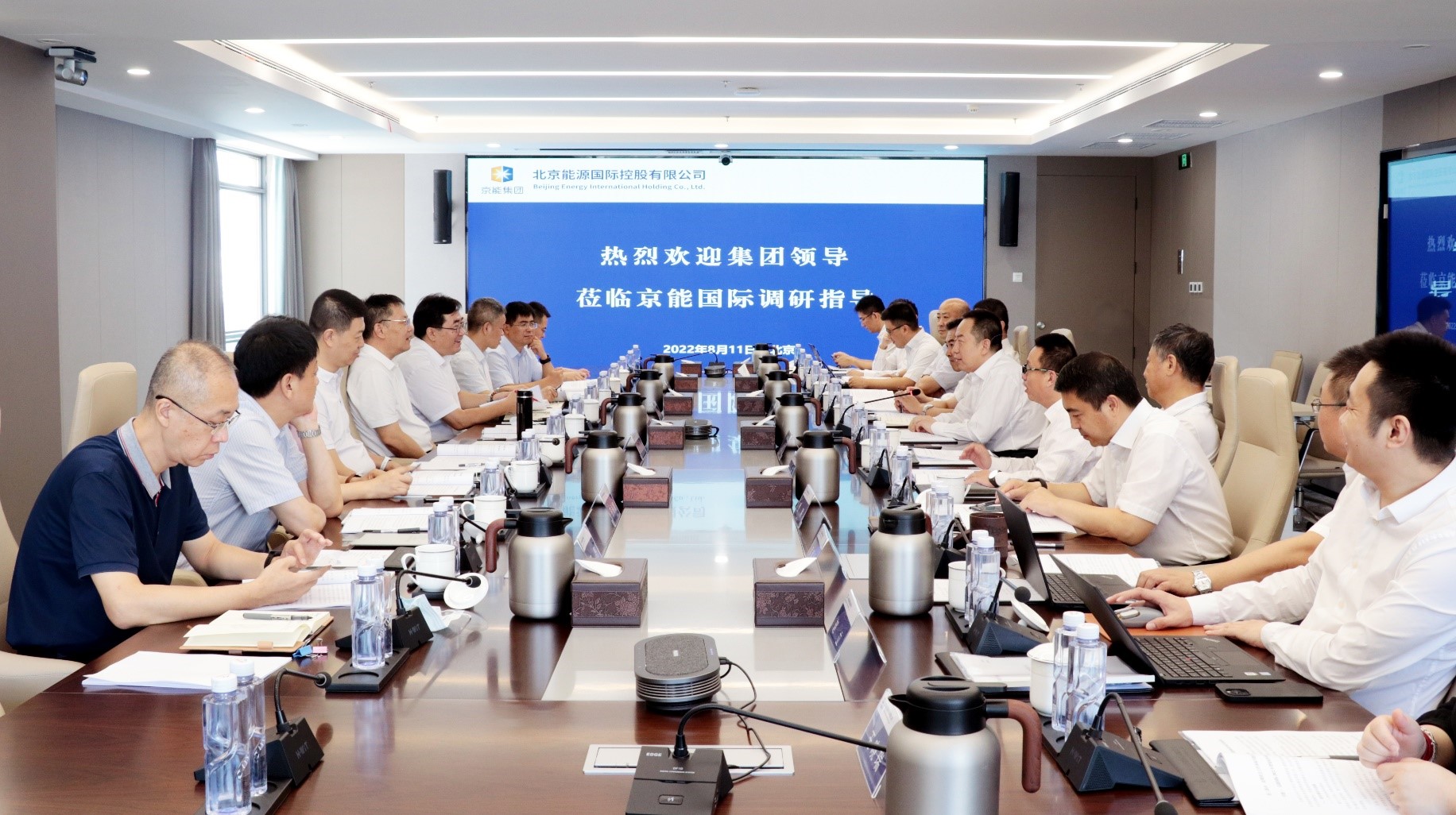 During the meeting, the supervisory team listened to the special work report made by Zhang Ping, Secretary of the Party Committee and Chairman of the Board of Directors of Beijing Energy International, and the participants had an in-depth exchange on the key work of Beijing Energy International in the first half of 2022, including business expansion, operation management and financing guarantee.
In the first half of 2022, Beijing Energy International made concerted efforts in implementing the company's 14th Five-Year Plan, taking "deepening reform, innovative development, lean management, improving quality and efficiency" as the main line, adhering to the open and efficient international market-oriented concept, continuing to seize development opportunities, releasing the vitality of institutional mechanisms, increasing market development, consolidating and expanding the scale effect of clean energy, enriching the industrial structure, and advancing integrated energy, strengthening the maintenance of market value, speeding up the transformation and application of scientific and technological advances, strengthening risk management and control as well as team building, improving basic management and profitability. The company's total holding installed capacity and equity installed capacity has exceeded 16 million kilowatts, and it has maintained a strong trend of high quality, high efficiency and rapid development.
Sui Xiaofeng pointed out that the company's domestic business development should continue to focus on energy base and regionalization, independent development, business expansion, and it should tap its own advantages, strengthen holistic approach in its operation, fully leverage the synergy effect, and maintain a strong momentum of development.
Chen Guogao pointed out that the company should continue to strengthen confidence in its development and maintain a vigorous development momentum, innovate financing channels, continuously speed up equity finance, analyze financial work under relevant themes, strengthen all-round and timely communication with Beijing Energy Holding. As the strong backing of Beijing Energy International, Beijing Energy Holding is committed to the sustainable, healthy and high-speed development of Beijing Energy International.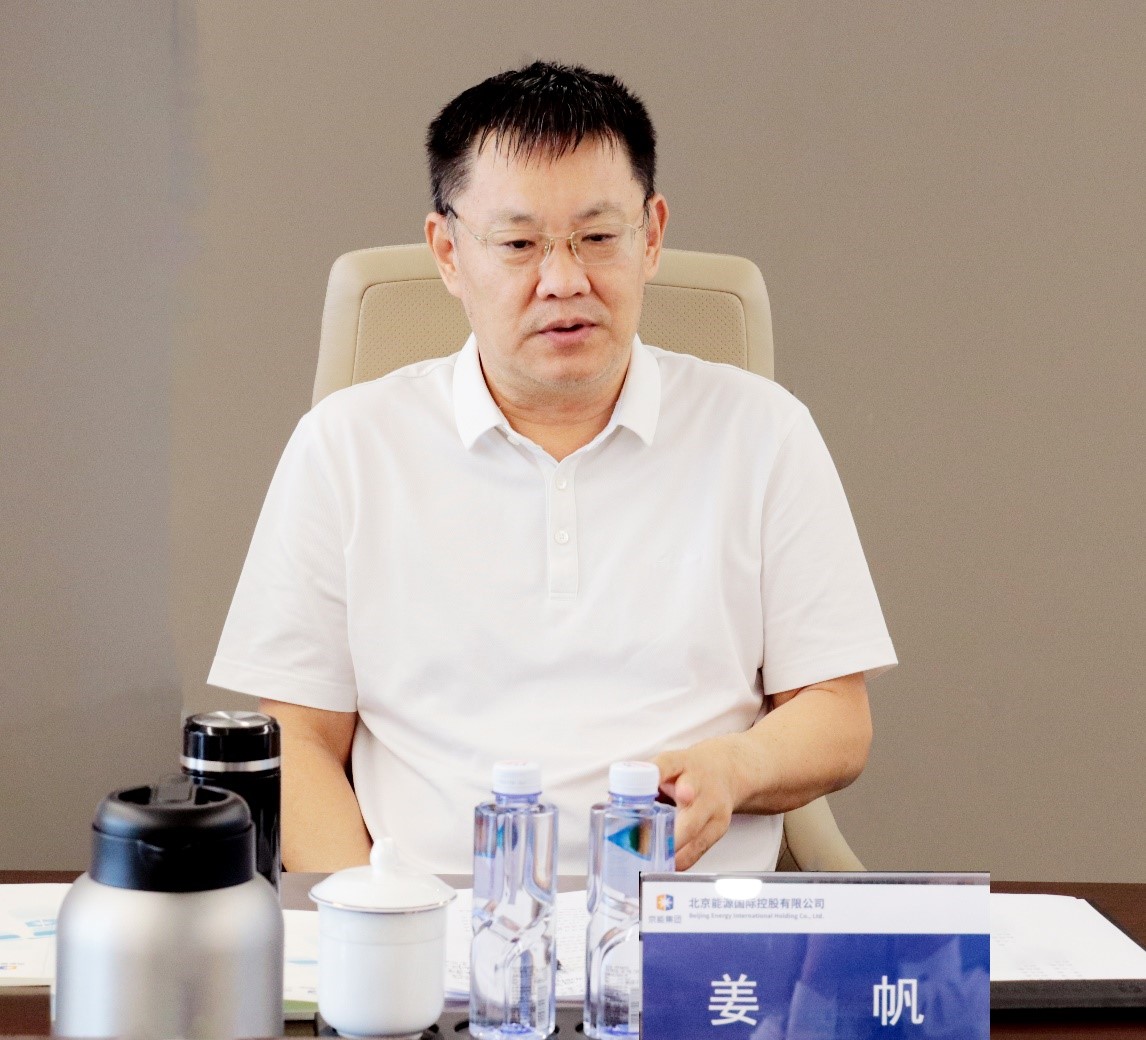 Jiang Fan said that with a strong pace of reform and a rapid development momentum, Beijing Energy International should be confident in overcoming all difficulties and continue to forge ahead. As the company is thriving and its employees are full of vitality, and its exciting achievements are obvious to all. The relevant departments and offices of Beijing Energy Holding should analyze and address the issues that need coordination and help, and all of them are fully committed to the healthy, rapid and long-term development of Beijing Energy International.
He put forward a three-point requirement for the future development of the company: First, we should continue to make every effort in our development, steps can include refining the plans and accelerating the implementation of the existing equity finance measures, focusing on the 14th Five-Year Plan, improving the overall financing plan, continuously innovating the mode and path of equity finance, expanding the scale of equity capital, and supporting market development achievements, grasping the window of new energy industry development, continuously increasing market development, focusing on the initiative of "Green Electricity to Beijing", deepening the construction of base projects, steadily promoting overseas business expansion, maintaining development momentum, strengthening development quality, and striving for a new journey of high-quality and rapid development.
Second, we should constantly strengthen management, which includes improving the financial management system, paying attention to capital payment, studying centralized financial control, strengthening risk control, the management of bidding and centralized purchasing and process monitoring, raising the awareness of continuous compliance, optimizing the compliance management system, focusing on contract signing and execution, strengthening compliance management, consolidating the basic guarantee for enterprise development. We should continue to strengthen digital development, focus on production, operation and management, explore and study digital enterprises, strengthen digital empowerment, continuously improve management efficiency, and promote the ability of risk prevention and control.
Third, we should continue to strengthen innovation in Party building. Adhere to the CPC's leadership, focus on the development and the improvement of production and operation level, focus on Party building and the dual carbon goals, and use information and digital means to continuously innovate new ideas and methods in Party building to create its own feature and use it as a strong driving force to galvanize and improve the core competitiveness, cohesion and effectiveness of the company.