The Consortium Led by BJ ENERGY INTL and the Government of Duolun County, Inner Mongolia Signed a Cooperative Development Framework Agreement for the Project of Hydrogen Storage for Green Ammonia from Wind and Light
On August 14, 2022, Beijing Energy International was invited to participate in the signing ceremony of strategic cooperation framework agreement and industrial cooperation promotion meeting between Shaanxi and Inner Mongolia, which was the event of the guest province of honor of the 6th Silk Road International Expo.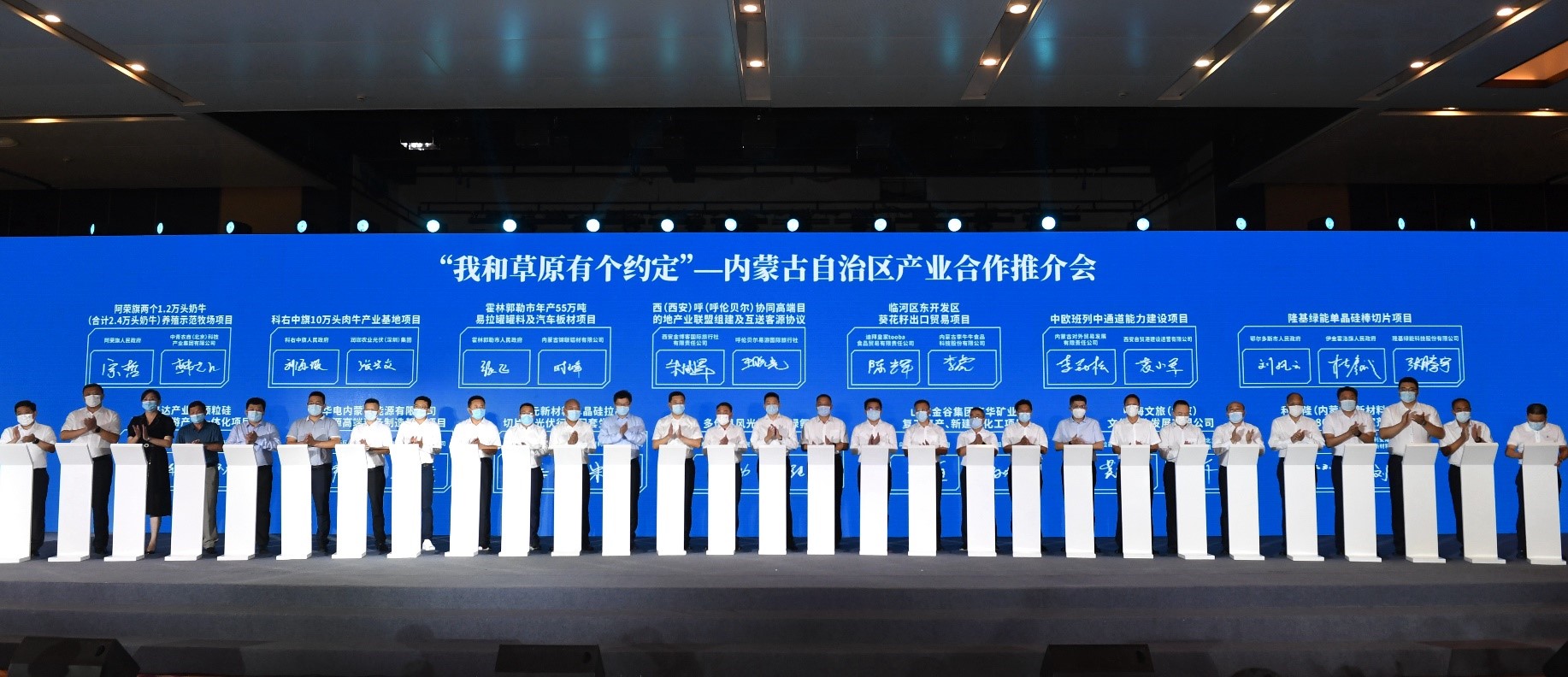 During the promotion meeting, Zhang Ping, Chairman of the Board of Directors of Beijing Energy International, on behalf of the consortium led by the company, signed a framework agreement for cooperative development of the project of hydrogen storage for green ammonia from wind and light with the Duolun County Government of Xilingol League, Inner Mongolia.
According to the agreement, the two sides will focus on the goal of carbon peaking and carbon neutrality, fully capitalize on their respective advantages, and jointly promote the project implementation of hydrogen storage for green ammonia from wind and light and use renewable energy resources in the southern area of Xilingol League to produce green electricity and electrolyze green hydrogen, which will be converted into green ammonia and supplied to domestic and foreign markets. After the completion of the project, it is estimated that the scale of hydrogen production through electrolysis will be 300 tons per day and the annual output of green ammonia will reach 600,000 tons, which will use resources intensively, expand new ways, new modes and new scenarios of new energy utilization, promote the coordinated development of the industrial chain of regional green power energy to green chemical products, and boost the transformation and upgrading of regional energy structure.
This event is jointly sponsored by the Inner Mongolia Government and Shaanxi Provincial Government, aiming at building a promotion platform for the two provinces to implement national strategies such as high-quality co-construction of the Belt and Road Initiative, the new era of promoting the western region's development to foster a new mode, ecological protection and high-quality development of the Yellow River Basin, and the construction of urban agglomeration in the cities of Hohhot, Baotou, Ordos and Yulin, etc. Wang Lixia, Chairman of Inner Mongolia and Secretary of the government Party Group; Zhang Shaochun, Vice Chairman of Inner Mongolia and Deputy Secretary of the government Party Group; Bao Xianhua, Vice Chairman of Inner Mongolia and Member of the government Party Group; Hu Chengdong, Member of the Party Group and Deputy Administrator of Xilingol League Administrative Office, Gao Haijun, Director of local National Development and Reform Commission, and Wang Yangong, Secretary of the County Party Committee of Duolun County; Wu Chaoke, Vice President of Beijing Energy International, Liu Lei, General Manager of North Branch and other related personnel attended the meeting and signing ceremony.