BJ ENERGY INTL Held Business Talks with Suihua Municipal Committee of Heilongjiang Province
On August 18, 2022, Zhang Ping, Chairman of the Board of Directors of Beijing Energy International met with Xu Liren, member of the Standing Committee of Suihua Municipal Committee of Heilongjiang Province in Beijing. The two sides had an exchange on in-depth cooperation in the field of new energy. Guan Haitao, Secretary of the Lanxi County Party Committee of Suihua, Guo Jianwei, member of the Standing Committee of the County Party Committee and head of Organization Department, and Guo Chaochen, Director of the County Investment Promotion Bureau; Zhu Jun, President of Beijing Energy International, Jin Xin, Vice President, Zhao Li, Investment Director, He Kun, General Manager of Northeast Branch and other relevant personnel attended the meeting.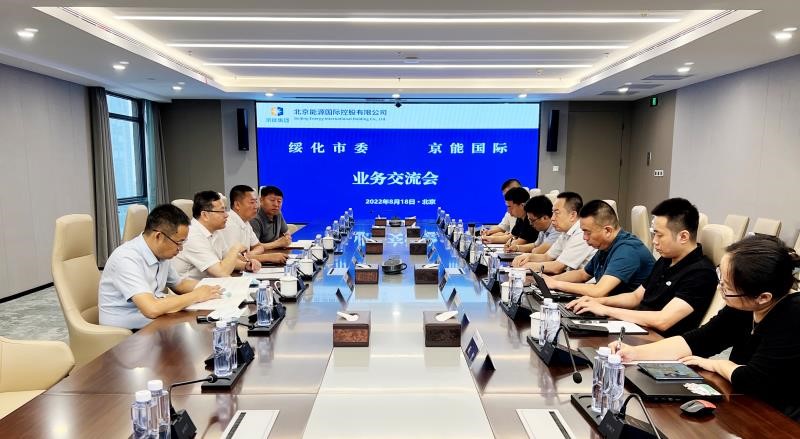 Zhang Ping welcomed Xu Liren and his delegation during the meeting and introduced the business development and future planning of Beijing Energy International. He said that based on the previous alignment, Beijing Energy International and Lanxi County Government have established a mutual trust and efficient communication mechanism. Going forward, the company will fully capitalize on its own advantages, speed up the investment and construction of cooperative projects, build benchmark demonstration projects, explore deeper exchanges and cooperation in more fields, boost the construction of green energy vegetable industrial park in Lanxi County, facilitate the integration of feature town and new energy development in the county, achieve a bumper harvest of regional social and economic benefits, and contribute to the early realization of dual carbon goals in Suihua.
Xu Liyan introduced the general situation of clean energy development in Suihua and the progress of new energy industry in the county. He said that Suihua is rich in scenic resources and has a vast new energy market. It is hoped that the two sides will strengthen cooperation in clean energy, integrated energy and rural revitalization, etc. and accelerate the implementation of cooperation projects. The city will provide all-round policy support and service guarantee, create a high-quality investment and business environment, elevate the cooperation between government and enterprises to a new height, jointly help Heilongjiang Province in achieving its green and low-carbon transformation.