BJ ENERGY INTL Held Business Talks with Sichuan Wanyuan Municipal Party Committee and Municipal Government
On August 29, 2022, Zhang Ping, Chairman of the Board of Directors of Beijing Energy International met with Ni Xin, secretary of Wanyuan Municipal Committee of Sichuan Province in Beijing. The two sides had a discussion on in-depth cooperation in new energy. Li Qiang, member of the Standing Committee of Wanyuan Municipal Committee and Director of the United Front Work Department, Zhang Hong, Vice Mayor of the Municipal Government, and Tu Yue, Director of the Municipal Party Committee Office; Zhu Jun, President of Beijing Energy International, Wu Chaoke, Vice President, Zhang Pengyuan, General Manager of Southwest Branch and other related personnel attended the meeting.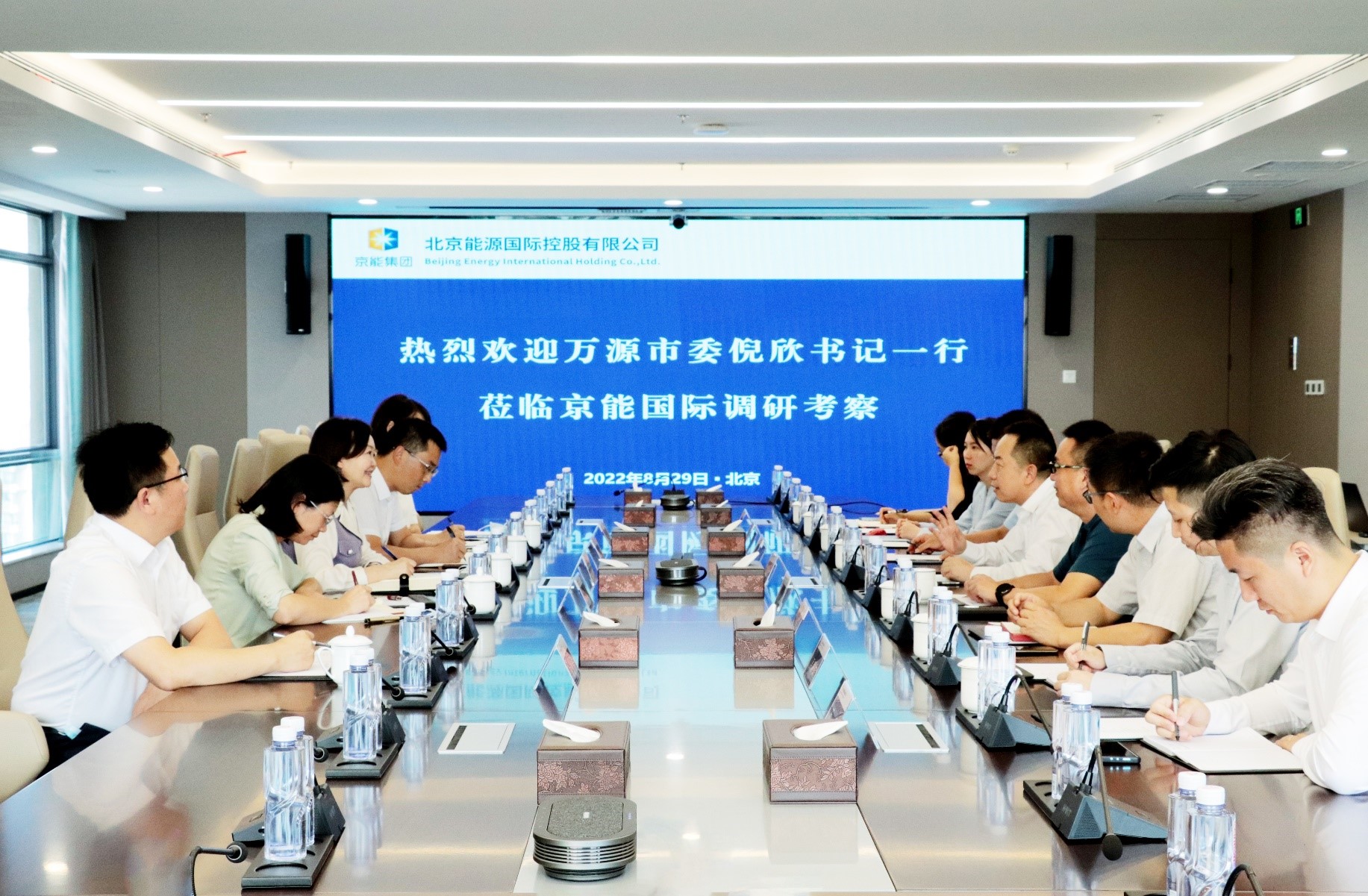 During the meeting, Zhang Ping welcomed Ni Xin and her delegation, and introduced the business development of Beijing Energy International and its future planning. He said that the company focuses on building itself into a first-class international clean energy provider and green investor and operator and is embracing high-quality and rapid development. The company attaches great importance to the new energy market in Southwest China and will continue to capitalize on its own professional and industrial synergy. Combining with the local development needs and energy structure characteristics, it will further increase investment in clean energy in Wanyuan City, contribute to local industrial development and the upgrading of regional new energy industry, achieve a bumper harvest of regional social and economic benefits, and facilitate the early realization of the dual carbon goals in the province.
Ni Xin introduced the clean energy resources and local development plan of the city. She said that the city, located at the junction of Sichuan, Shaanxi and Chongqing provinces, enjoys unique scenery and gas resources, and has a vast new energy market space. She pointed out that Beijing Energy International is a front-runner in the new energy field with expertise, flexible mechanism and remarkable achievements. The city welcomes the company to invest locally, and hope that the two sides will deepen cooperation in clean energy, culture, tourism, health care, etc., and translate the advantages of resources, technology and talent of both sides into winning advantages. The city will provide all-round policy support and service guarantee and promote the cooperation between government and enterprises to a higher level, seek common development, and contribute to the national green energy and low-carbon transformation.