BJ ENERGY INTL Signed a Cooperation Framework Agreement with Baoshan Municipal Government of Yunnan Province
On September 8, 2022, Beijing Energy International signed a cooperation framework agreement with Baoshan Municipal Government of Yunnan Province. Yang Jun, Secretary of Baoshan Municipal Party Committee and Zhang Ping, Chairman of the Board of Directors of Beijing Energy International, attended the signing ceremony and delivered speeches. Cheng Dejun, Vice Mayor of Baoshan, and Liu Dongsheng, Vice President of Beijing Energy International signed the agreement on behalf of the two sides respectively. According to the agreement, the company will jointly invest with Baoshan's energy enterprises to develop GW-class photovoltaic power, wind power and other new energy projects and pumped storage project resources in Baoshan.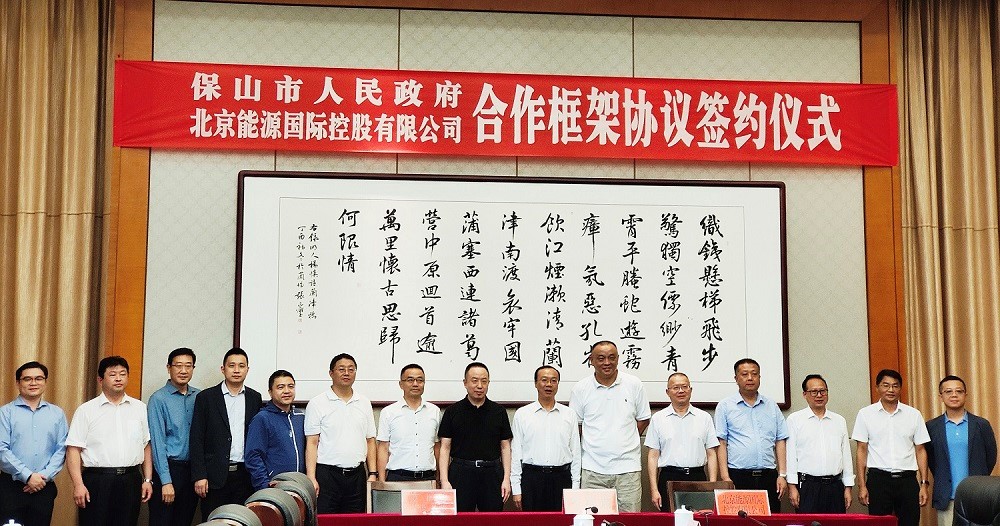 During the signing meeting, Yang Jun welcomed the visit of Zhang Ping and his delegation. He said that the signing of the agreement marks the all-round cooperation between Baoshan City and Beijing Energy International in new energy. The two sides will streamline relevant procedures, speed up the project scheduling, fully promote the follow-up tasks and jointly build exemplary projects. The city will provide all-dimensional policy support and service guarantee, create a high-quality investment and business environment, and jointly promote the high-quality development.
Zhang Ping said that the two sides are highly compatible in development concepts and share the common vision of developing green and low-carbon energy. The company will fully implement the relevant requirements of Baoshan Municipal Party Committee and Municipal Government, speed up the development and investment of new energy in the city, and actively promote the project implementation. It will also actively introduce the related industrial business of Beijing Energy Holding to help the city upgrade its industry, achieve a bumper harvest of regional social and economic benefits, so as to contribute to the early attainment of local dual carbon goals.
Du Chunqiang, member of the Standing Committee of Baoshan Municipal Committee and Executive Vice Mayor, Wang Di, Deputy Secretary General, Zhang Wenqin, Director of Economic, Agricultural and Rural Committee of CPPCC, Zhao Guipin, Director of Municipal Development and Reform Commission, Zhang Tieyao, Director of SASAC, Su Jian, Director of Municipal Energy Bureau; Yang Sifeng and Wan Zipeng, Chairman and Vice Chairman of Baoshan Energy; Huang Hui and Jia Geng, Vice Presidents of Beijing Energy International, Zhao Li, Investment Director, Tao Wei, General Counsel, Fan Liyun, Engineering Director, Zhong Yi, General Manager of Huazhong Branch and other relevant personnel attended the signing ceremony.