On May 9, 2023, Zhang Ping, chairman of the Board of Directors of Beijing Energy International, met with Tang Zhikun, vice mayor of Dazhou City of Sichuan Province in Beijing. The two sides exchanged on in-depth cooperation in new energy.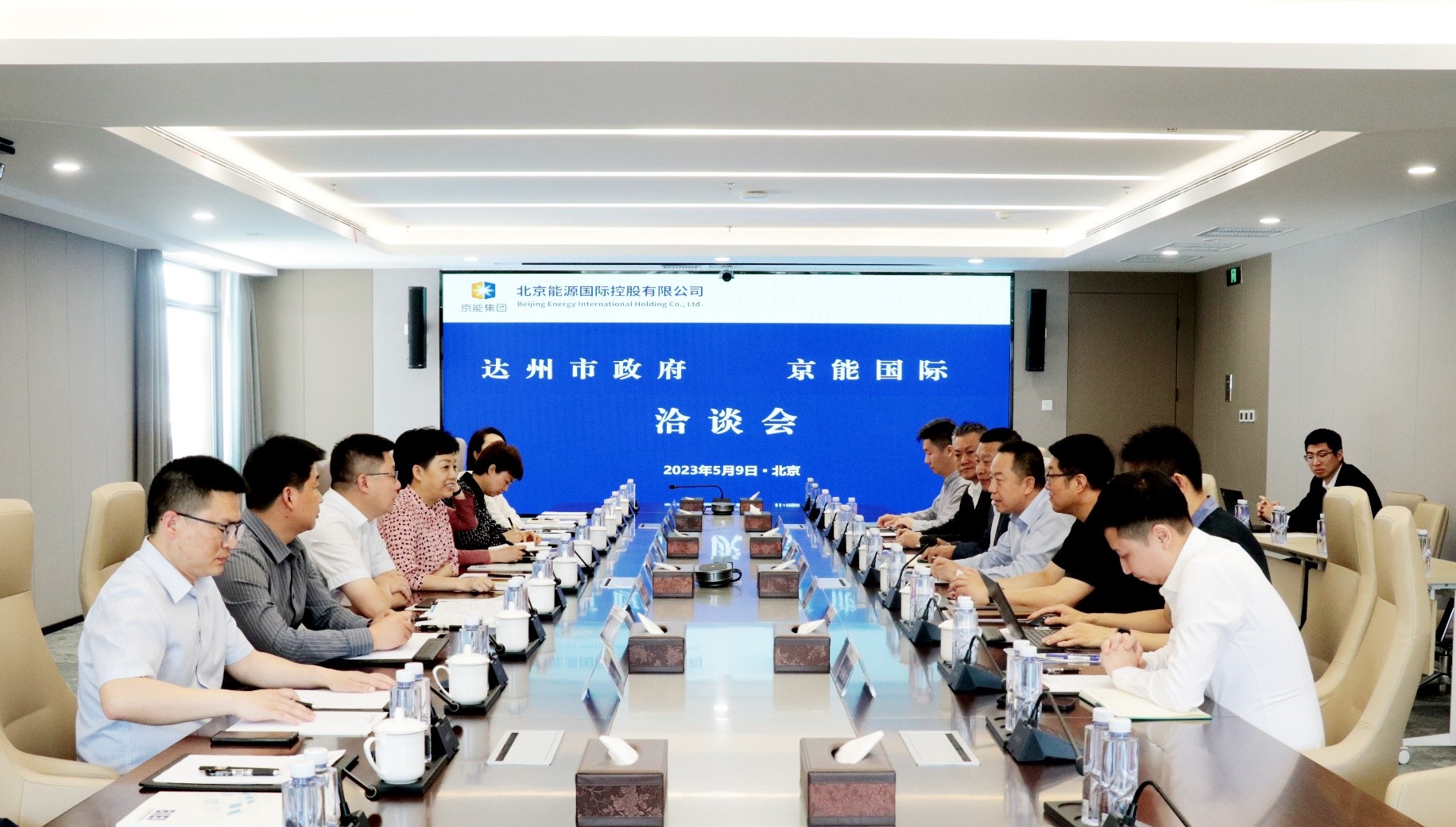 During the meeting, Zhang Ping welcomed Tang Zhikun and her delegation and introduced the business development and future planning of Beijing Energy International. He said that the company is currently striving to build itself into a first-class international clean energy provider, green investor and operator, and enjoys high-quality and rapid development. It has built a development pattern of "dual-circle, one-center and one-focus". Sichuan is one of the key development areas of new energy investment for the company. It will start with developing projects in the context of introducing new industry in the province, use its own specialized and industrial coordinating capability to align its development with local development needs and energy structure characteristics. It is committed to continuously increasing the investment in new energy in Dazhou, upgrading new energy industry to create socioeconomic benefits in the region, and contribute to the early realization of Sichuan's dual carbon goal.
Tang Zhikun introduced the basic market situation and new energy resources in Dazhou in detail. She said that Dazhou is an important strategic base of energy resources in the country, with unique wind, solar and natural gas resources as well as a broad market prospect for new energy. She commended Beijing Energy International's flexible mechanism and specialized advantages which have underpinned its remarkable achievements in new energy. She welcomed the company to participate in Dazhou's economic and social construction and jointly explore the sustainable development path of energy industry in the region. Dazhou will provide all-round policy support and service guarantee, facilitate the cooperation between local government and enterprises for common development, so as to support the country's green energy and low-carbon transformation.
Zhangxin, director of Dazhou Economic Cooperation and Foreign Affairs Bureau, Kang Jinxin, member of the Standing Committee of Wanyuan Municipal Committee and deputy mayor, Pu Yuyang, deputy director of Dazhou Economic Cooperation and Foreign Affairs Bureau; vice president Huang Hui of Beijing Energy International, Liu Pengfei, director of Company Office, Liu Jiguang, general manager of Business Planning Department, Zhang Pengyuan, general manager of Southwest Branch Company and other relevant personnel attended the meeting.