The World's First Panda Power Plant Officially Put Into Operation Ceremony Held at the United Nations China Office
(Beijing China, August 10 2017) The world's leading eco-development solutions provider, Panda Green Energy Group Limited (stock code: 00686.HK, "Panda Green Energy", formerly known as United Photovoltaics Group Limited) was pleased to announce that the world's first Panda Power Plant initiated by Panda Green Energy was officially put into operation in Datong Shanxi Province. The completion ceremony was held at the Beijing office of United Nations. Agi Veres, Country Director of the United Nations Development Programe (UNDP) in China, Zhu Ming, General Director of New Energy Department of National Energy Administration (NEA), Ma Anquan, Deputy Mayor of Datong, Shanxi Province, Alan Li, CEO of Panda Green Energy attended the event and gave speeches.

Datong Panda Power Plant was initiated by Panda Green Energy in 2016 and has been completed and connected to grid on June 29 2017. The completion of Datong Panda Power Plant became the starting point in Panda Green Energy's "Panda 100 Plan" global layout.

Panda Power plant is also a green energy demonstration project jointly promoted by Panda Green Energy and UNDP, who have signed a strategic cooperation agreement in 2016 and initiated the "Panda Power Plant to promote the youth engagement and innovation to promote sustainable development" program to bring more young people focusing on the future sustainable development issue. During the "Belt and Road" Forum for International Cooperation on May 14 in Beijing, Panda Power Plant project was officially listed in the Action Plan on Jointly Promoting "Belt and Road" Construction signed by Chinese government and the United Nations, becoming one of the key landing projects of the "Belt and Road" Initiative.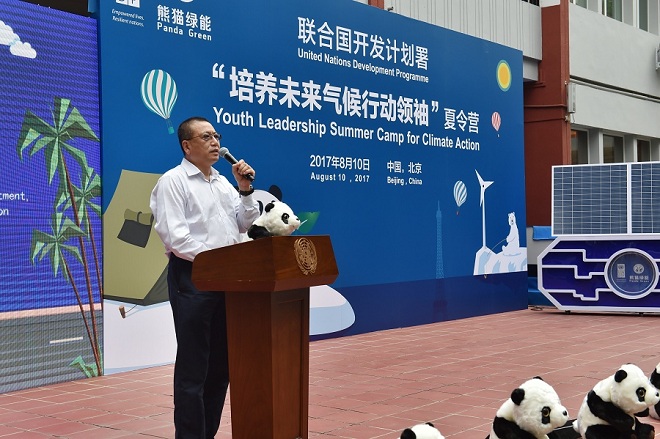 Zhu Ming, General Director of New Energy Department of NEA was giving a speech
At the Ceremony, Zhu Ming, General Director of New Energy Department of NEA fully recognized the development of Panda Power Plants. He said, "Chinese government fully supports new energy and renewable energy development, and firmly implement green Low-carbon and sustainable development. Taken as the China's image and name card, Panda Power Plant is representing the belief of protecting the world's endangered animals, harmony, peace and smile, as well as the future development of new energy industry. All these ideas are synergized to boost the world's renewable energy industry and environmental protection. We appreciated Panda Green Energy and the UNDP's work in promoting the renewable energy and new energy. "
Ma Anquan, Deputy Mayor of Datong City, said, "Panda Power Plant is a great idea that we truly appreciate. It's also a "Solar+" innovation that turns the solar+tourism, solar+science, solar+education into reality. Under the universal commonwealth are one world. With the UNDP's support, we are all coming to Datong City. We also feel determined and confident to make Datong as the new energy demonstration base as well as new energy modeling city go to the world.
The creative idea of building Panda Power Plant was first proposed by a 15 year-old Chinese students of US high school two years ago. It is designed and built as the image of the Chinese national treasure - the giant panda, of which the black part is made of monocrystalline solar cells; the gray part is made of the thin film cells and N-type bifacial dual-glazed modules. The color difference contrast in these kinds of solar cell panels generates an obvious black and white effect. From the bird's eye view is the whole power plant presented as a vivid image of the giant panda.
Alan Li, CEO of Panda Green Energy and chief designer of Panda Power Plant project, said, "From the beginning of the design, Datong Panda Power Plant has applied the basic principle as 'science and technology', 'efficiency', 'ecology' and 'humanity', and accomplished more than 30 technological innovations, of which 8 innovations are the industry's initiates. Panda Power Plant will be built as the first-class solar power plants and become the pioneer with leading technology and patterns in the new energy field. Panda Power Plants are outlined overall as butterfly wings, which mean the plants will make the Butterfly Effect and bring on the global green movements.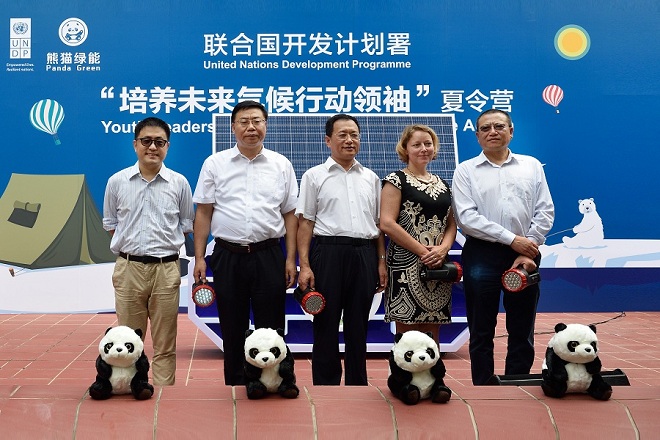 The completion ceremony
According to the plan, Datong Panda Power Plant has a total installed capacity of 100MW, and the first-round plant is completed with an installed capacity of 50MW, which consists of a total of 69,888 295W monocrystalline modules, 94,248 310W bifacial dual-glazed modules, and 11,250 115W thin film modules. It is designed as a pair of young panda babies, and the second-round plant will be built as an adult panda couple, which together form as a happy panda family.
According to the estimation, a 100MW Panda Power Plant can provide 3.2 billion kWh of green power in 25 years, which is equivalent to saving 1.056 million tons of standard coal or reducing 2.74 million tons of CO2 emission, 2,600 tons of SO2 emission, 24,000 tons of nitrogen oxide emission, 1,600 tons of smoke and dust.
Panda Power Plant not only use clean energy projects to lead a sustainable future, but also cultivate the global youth environmental protection concept and participating consciousness, to build a broad platform for participation. On August 10, "Youth Leadership Summer Camp for Climate Action" jointly organized by Panda Green Energy and the UNDP was also officially commenced. 50 teenagers from both home and abroad will enter the Datong Panda Power Plant and summer camp base, starting nine days of summer camp life
During the summer camp, Panda Green Energy and UNDP will set up a series of interactive campers activities: inviting energy and technology leaders to discuss the environment, climate change challenges and response with the teenagers face to face; through the debate speech, participate in innovation and entrepreneurship workshop, to help teenagers to cultivate innovative thinking, learn teamwork, and improve communication skills; visiting the Panda Power Plant, and experience innovative clean energy development projects, to promote teenagers' environmental awareness and cultivate their innovation ability.
When it comes to the original intention of the project, Ms. Agi Veres, Country Director of UNDP China, said "Environmental change has become a global threat to the world economic development. We hope that the Youth Leadership Summer Camp for Climate Action can cultivate teenagers consciousness and ability to respond to climate change, make them become the real future leaders, successful dealing with future environmental challenges."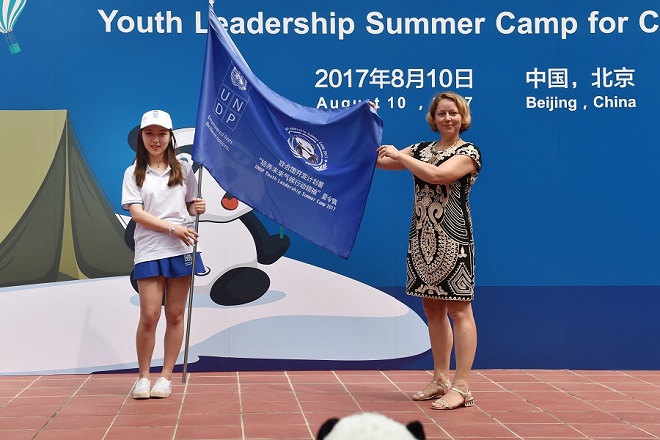 Agi Veres, Country Director of UNDP, presenting camp flag for the Youth Leadership Summer Camp for Climate Action
In the future, Panda Green Energy will continue to strengthen the cooperation with the United Nations, and carry out a series of innovative activities to encourage more teenagers to take actions in dealing with climate change, and jointly promote the development of the green future. At the same time, Panda Green Energy will continue to take Panda Power Plant as a carrier, through the integration of all kinds of social resources, construct a platform of full society's participation and innovative technologies promoting green sustainable development, and realize the goal of "Sustainable Energy for All".