Details of the electricity generation volume in 2016 Q2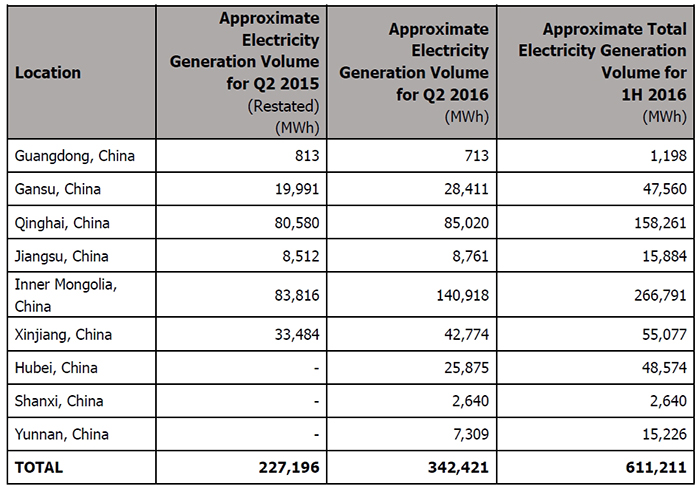 (Hong Kong, China, 12 July 2016) - United Photovoltaics Group Limited ("United PV" or the "Company", collectively with its subsidiaries, the "Group", stock code: 00686.HK, whose largest shareholder is China Merchants New Energy Group), a leading solar power plant investor and operator in China, today announced the electricity generation volume of the second quarter of 2016 recorded approximately 342,421 MWh and the aggregate volume of the first half of 2016 has amounted to approximately 611,211 MWh, representing a substantial Y-on-Y increase of 50.72% and 56.05% respectively.
As for now, the vast majority of the Group's power plants are large ground-mounted, among which plants in Inner Mongolia and Qinghai power plants are great contributors in light of electricity generation volume, representing 41.53% and 24.83% of the total generation volume of the quarter respectively. In addition, the Company's "Top Runner" Programme, a 100MW solar power plant project located in the Coal Mining Subsidence National Advanced Technology Solar Demonstration Base in Datong, Shanxi, successfully generated power after grid connection on June 24. The performance and total generation volume of this project is at top in the Base.
With further increasing of the total power generation volume, the environmental benefits of United PV has become increasingly prominent. The 611,211 MWh solar power is able to meet the electricity demands of more than 300,000 families in one year, which is equivalent to: saving 200,000 tons of standard coal and reducing carbon dioxide emissions by 520,000 tons or reducing 300 tons of fume emissions; while also representing an equivalent to decreasing 5,000 tons of sulfur dioxide emissions or reducing emissions of 4,700 tons of nitrogen oxides, which is equivalent to carbon dioxide absorption of 29 million trees in a year.
In the first half of 2016, China's photovoltaic industry is developing rapidly by achieving total installed capacity of approximately 50 GW in the first quarter, which ranks first among the world. In addition, the state has introduced a number of industry driven policies, including The Administrative Measures for the Guaranteed Purchase of Renewable Energy-generated Power in Full Amount and A notice on actively promoting the cooperation model between government and social capital in the energy sector, etc, providing strong support for the all-round healthy and orderly development of photovoltaic industry, ranging from solving consumption of power to broaden the financing channels of photovoltaic industry. On June 13, the National Energy Administration issued a notice about a 18.1 GW target for newly-added solar capacity in 2016. Photovoltaic industry is believed to have brighter prospects.
As the first solar power electricity generation company which voluntarily discloses its quarterly electricity generation volume on the HKEx, United PV will seize the opportunities in the rapid developing industry, continuing to play the role as a top runner to lead the healthy development of the industry.