On August 2, 2022, Zhang Ping, Chairman of the Board of Directors of Beijing Energy International met with Zhang Xi, Deputy Secretary of the Party Committee, General Manager and Board Director of PowerChina Chongqing Engineering Corporation in Beijing. The two sides had in-depth exchanges on cooperation in wind power, photovoltaic and shared energy storage power stations. Jiang Wenying, Deputy Chief Accountant and Director of Finance Department of Chongqing Engineering, Fang Guangjun, Party Secretary and Chairman of New Energy Engineering Company, and Wang Shaojia, Deputy Director of Marketing Center; Jia Geng and Wu Chaoke, Vice Presidents of Beijing Energy International, Zhao Li, Investment Director, He Kun, General Manager of Northeast Branch, and other relevant personnel attended the meeting.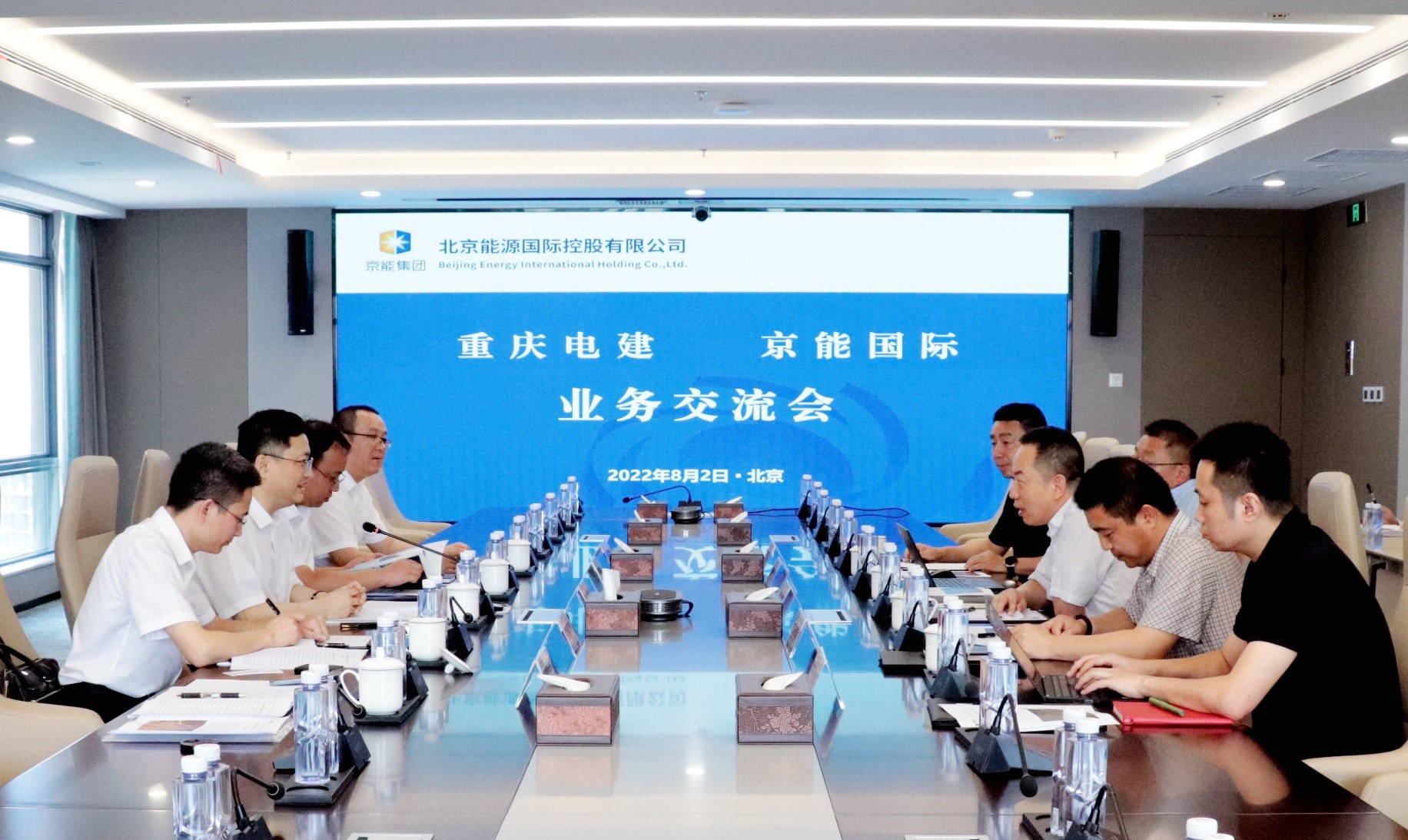 During the meeting, Zhang Xi introduced the development of Chongqing Engineering. He said that during the seven decades of development, the company has always adhered to the strategic vision of building a first-class engineering company and creating an outstanding brand, and it has won a lot of honors and praises in the industry with its excellent engineering performance and strong brand image. He said that Beijing Energy International enjoys a good reputation and remarkable performance in new energy industry with its leading expertise and rapid development. The two sides are strongly complementary and have broad space for cooperation in business development. It is hoped that the two sides will continue to deepen cooperation, reach a long-term strategic cooperative relationship, and jointly accelerate the implementation of cooperative projects.
Zhang Ping welcomed Zhang Xi and his delegation and introduced the business development and future planning of Beijing Energy International. He said that in the past two years, the company has achieved fruitful results in new energy and integrated energy amid its strong momentum of high-quality and rapid development and is redoubling its efforts to build a first-class international clean energy provider and green investor and operator. He said that Chongqing Engineering has strong market competitiveness and impact in China, and the development concepts of both sides are highly compatible. It is hoped that both sides will further strengthen communication and alignment, capitalize on the advantages of resources, technology and talent of both sides, enhance strategic mutual trust, strengthen implementation on the ground, and open a new chapter of comprehensive and in-depth cooperation.