The World's First Panda Solar Power Plant Launched in Datong Action is taken to Cope with Climate Change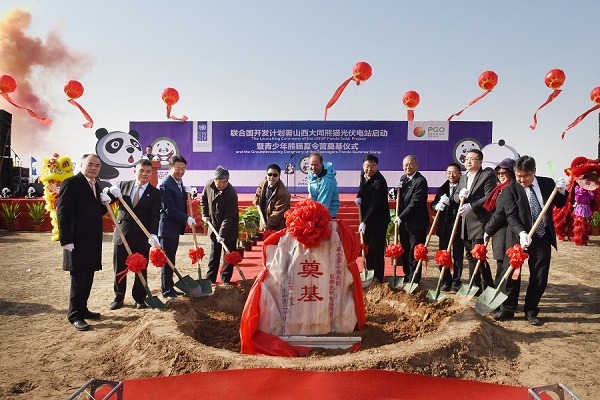 On November 20th 2016, in the parallel session of the 22nd session of the Conference of the Parties (COP22) in China, the world's first Panda Solar Power Plant and the Panda Summer Youth Camp were launched in Datong, Shanxi Province, by the United Nations Development Program (UNDP) and the Photovoltaic Green Ecological Collaborative Organization (PGO). Over 100 guests attended the ceremony, including Mr. Patrick Haverman, the UNDP Deputy Country Director, major leaders of Datong government and experts of new energy industry etc.
On November 4th, the "Paris Agreement" came into effect and will lead a far-reaching impact on people's life in the future. COP22 is the first conference among the signing parties afterwards, focusing on action plans in order to achieve the priorities of the Paris Agreement. The launching of Panda Solar Power Plant is a practice of executing the "Paris Agreement", turning proposal into implementation and merely a concept into action. It also demonstrates that all participants are devoted to dealing with climate change and taking their social responsibilities towards it.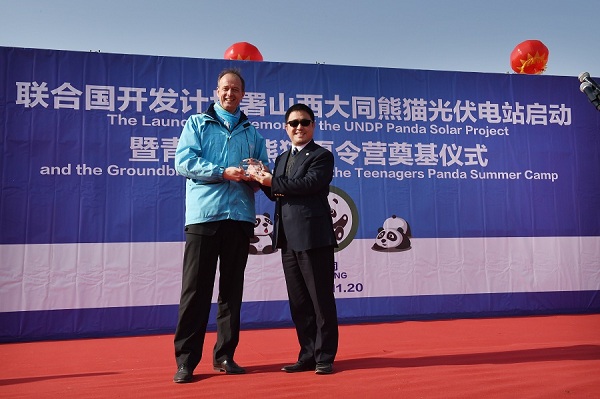 Mr. Patrick Haverman, Deputy Country Director of the UNDP, said that "Energy plays an important role in achieving sustainable development, which requires collaboration of multiple parties, Panda Solar Power Plant is a very innovative solution for that. The United Nations will cooperate with China Merchants New Energy Group Limited (CMNE) to promote the youth generations' awareness to the green energy. We hope that Panda Solar Power Plant will inspire young people from all over the world to have a deeper understanding on sustainable development strategy and become the innovator and promoter of it in the future.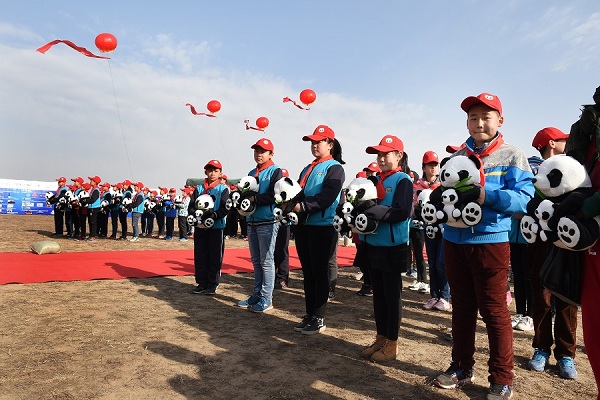 Mr. Alan Li, chairman of PGO and CEO of CMNE, said at the launching ceremony that as one of the Panda Solar Power Plant initiators, CMNE has received great recognition and support from many international institutions and multinational companies in promoting sustainable development and energy structure transformation in China. Datong Panda Solar Power Plant is the first panda photovoltaic power plant in the world. In the next five years, " Panda 100 Plan" will be carried out.
Datong Panda Solar Power Plant, invested by the United PV under CMNE, with China Merchants Zhangzhou Development Zone Silk Road New Energy Co., Ltd. providing total contracting package, carbon asset management and trading services, has an installed capacity of 100MW. A 100MW Panda Solar Power Plant can provide 3.2 billion kWh green power in 25 years, which is equal to saving 1.056 million tons of coal, 2.74 million tons of carbon dioxide emission, 26,000 tons of sulfur dioxide emission, 24,000 tons of nitrogen oxide compounds emission, and 1,600 tons of dust emission.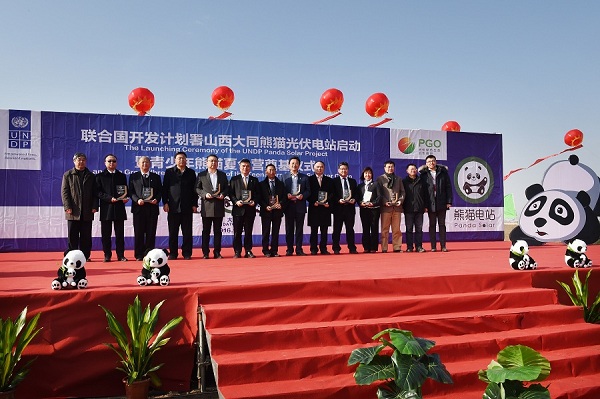 In the launching ceremony, the "Sino-US Dream Team" has been authorized and announced its formal establishment, and its members will jointly design and build Panda Solar Power Plants. In addition to the initiator CMNE, these members include Chinese enterprises such as Xi'an Longi Silicon, Sungrow Power, POWERCHINA, Zhonghai Sunshine Energy, Huawei, and Jolywood, and also the US enterprises such as First Solar, SunPower, IBM. Meanwhile, there will be more outstanding domestic and foreign enterprises joining the "Dream Team", bringing in more advanced technologies, new materials and cross-border applications.
As the national name card of China's energy transition, CMNE has been always making a great contribution to dealing with climate change through practicing environmental protection and green developments. CMNE is looking forward to integrating all kinds of social resources including government, enterprises, and financial institutions through the construction and popularization of Panda Solar Power Plant, so as to deeper the significance of green development in people and realize the goal of "Sustainable Energy for All" soon.